Joined

Dec 21, 2005
Messages

235
R.junceus and C.limbatus
I got these from Southern Spider Works today, and of course new scorps means new pictures! x3 early instar Rhopalurus junceus and x3 sub-adult Centruroides limbatus, I'm pretty sure that two are adults though, if so then even better
.
Rhopalurus junceus#1
R.junceus#2, there is still some of the old excuvium left on its metasoma from the last molt.
R.junceus#3
While I'm posting I thought I would show my method of transfering very small scorpions. I don't know if I picked it up somewhere on AB or if it's just one of my "bright ideas", either way it has proven the easiest way for me to transfer very young scorpions.
A:I start by placing the vial in the enclosure I plan on unpacking the scorpion in.
B:I basically just take two long sticks, use one to scare or nudge the scorpion and put the other stick in the path it's going to run, it sometimes takes a few tries but they ussually just run right up on it.
C:I then quickly lower the stick in the new enclosure. MOST of the scorplings I have used this with will crawl off the stick as soon as they can touch the ground. ***This method however is NOT foolproof*** as shown in pic#2, all three Rj ran straight up towards my hand. I had to blow downwards on it to stop it before I placed it in the vial.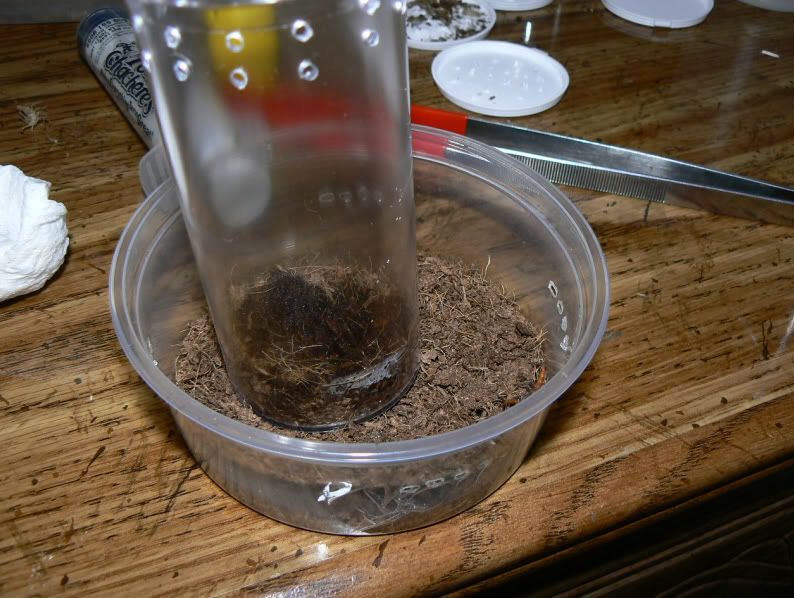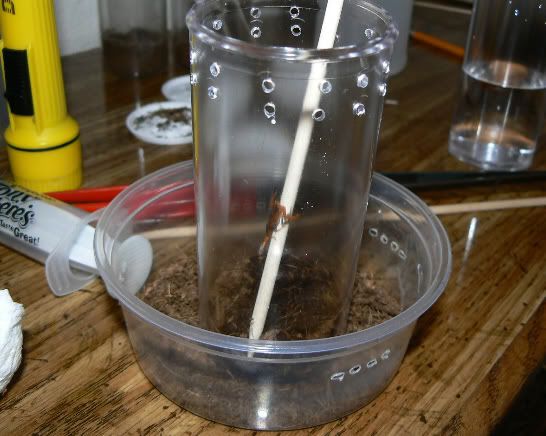 And finally the three Centruroides limbatus (not gracilis hehehe). "Typical color morph" wich I think is quite beautiful. I have them set up in large/tall deli cups, I think I'm going to move the larger 2 into small KK's as I was expecting smaller scorps. The first two look like adults to me, it also looks like the first one might be female and the second male, this however I'm sure is just me seeing what I want to see
. The third is quite a bit smaller than the other two, so I know that one, atleast, is not mature.
C.limbatus #1
C.limbatus #2
C.limbatus #3
Last edited: