Joined

Sep 23, 2010
Messages

4
So as promised, here's some pics of Skweezeme! Click the pics for the full image.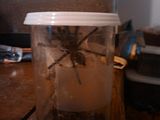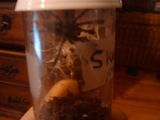 And introducing *drum roll* Sodaboy78's (my hubby) first pokie!!
I tried taking pictures of the new one... but the vial isn't conducive to images at all. Here's what I do have (and my apologies about the image quality). This is a P. Ornata that I picked up from my LPS. But it's a captiveinverts.com T. This lil guy has been at the LPS for about a month and no one has bought him/her. So I did for Hubby!
I circled him so you could tell him apart from the substrate. LOL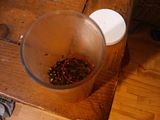 why yes, that's a P. Ornata sling leg. Woot!
these are as good as it gets for now.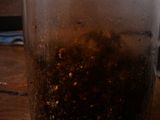 I know I said I was looking at a B. Smithi but I felt bad that no one had bought him. He's about the same size as Skweezeme.