Hey guys. just wanted to say that the eggsack my Rosie made around 4 weeks ago has been removed and there's exactly 150 eggs inside (see pics) by my count. really exciting
can't wait for them to start hatching.
She doesn't seem too happy about the idea of us taking away her eggs but she's settling down and we fed her a couple of crickets too.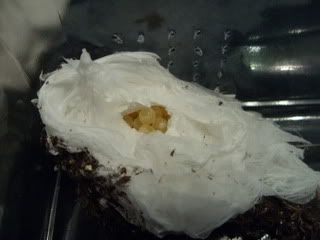 Also while im talking about news. I recieved my two new Red Knees through the post today. both look healthy. about 1cm big at the moment. ill put a picture up later for you all to see
And if anyone is interested in buying a rosie sling when theyve hatched let me know
Last edited: