I have just got my first big T (first was a Zebra spiderling) and I am worried and seem to be making abit of a hash of it
I keep getting conflicting advice.
I have set up my tank according to a mate who lives over the road who has a Pink toe and a White Knee.
Anyway this is my tank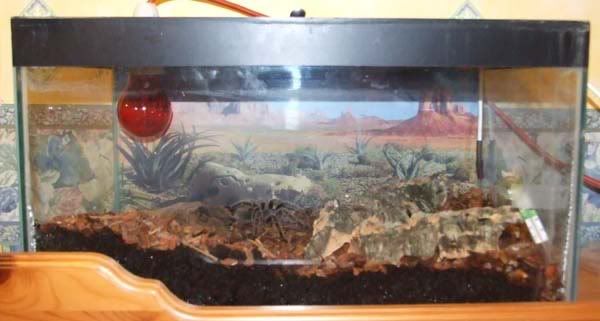 Alice on my pic thread gave me some advice about ditching the bark, which is going tomorrow (currently drying peat out in the over)
I'm worried about the light though. My mate set it up saying it doesn't need a cover as the spider will move away from it when it gets warm, however tonight he was climbing around by the light and it came on (its run via a thermostat) and the poor spider damn near crapped himself ran off and hid. This worried me greatly.
So now I have turned the light off for the moment as my instincts say it's not safe for him (even though I was told otherwise)
Hows the best way to do this? Is a heat mat the way forward and have a separate red non heating light above his tank? I would like the tank lit if possible.
I'm getting abit miffed about it all now. I want the best for my first spider (ad of cause if/when I do have more) but at the moment with all the conflicting advice I am getting I feel like giving up already
I will be also raising the substrate tomorrow as Alice suggested as she said Rose's are clumsy climbers. I'm begining to think my mate doesn't know what hes doing, even though hes kepts Ts for 30 years.
Feeling abit sad by it all to be honest.
Thanks for any help and suggestions you can give me.
Kain