Joined

Mar 9, 2007
Messages

401
This post was intended for my Australian Scorpion Forum and of course the information relates directly to species from Australia. However, you might find some of the science interesting as clearly it may well relate to desert species from other geographic locations.
*************************
For those who might be interested in the science associated with studying and keeping scorpions. At the moment I am trying to ascertain whether or not
U armatus
is capable of removing water from soil via osmosis as does
U yaschenkoi
. Below is a graph showing data from 4 days of evaporative water loss from one individual. The scorpion is housed in an open jar with nothing in it, no substrate. You can see that after 4 days the scorpion has lost 13% of its original body weight, which is quite a bit of water, nearly 0.1g. This is occuring at an average RH of 35%. You can see that it wouldnt take long for your scorpion to kick the bucket if left in a drying atmosphere. This is the average atmosphere in my house at present, in summer it gets a lot lower than this.
Also prelim data indicate
U armatus
does NOT use osmosis to derive water.
Day 1 is the first day in the experiment, hence only 4 days of water loss, not 5. This equates to nearly 1mg or 0.13% body weight lost every hour when exposed to this atmosphere. When the jar was sealed the water loss became exactly zero inside the next 24 hours. Soil at 1.8% water content was also included in the jar, which then produced a saturated atmosphere. This is not shown in this graph.
For desert burrowers :
SEAL YOUR TANK!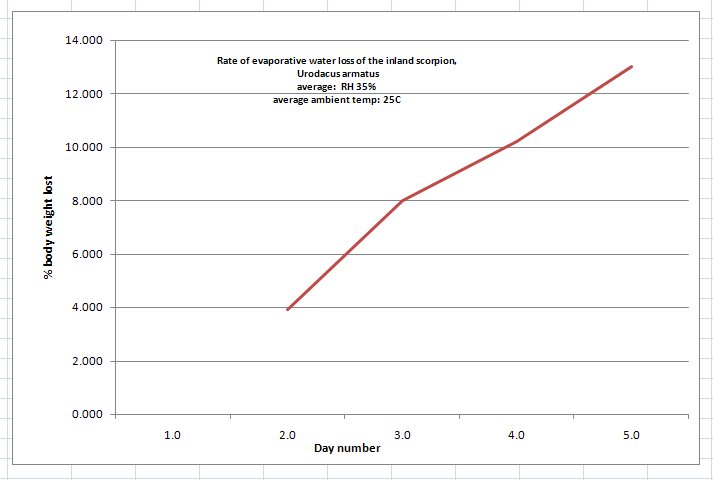 A shot taken in the habitat of
U.armatus
after recent rains. Low rainfall area <200mm per year.