so lately ive been helping my friend and her family out, moving furniture with my truck and whatnot, and they had fish they didnt want. so i was talking to them and they explained to me that they didnt know how to get the "dirt" out of the bottom of the tank, and they couldnt figure out why the bigger fish kept eating the little fish, even though the petstore "specialist" told them they were all community fish that would get along. and they generally grew tired of trying to keep the tank clean since they didnt know anything about fixing the problems with the tank. so in return for helping them they gave me the fish, a few video games, and free lunch each day i helped them
anyway the only problem is they didnt remember the names of the fish they had. theres three of them, two are clearly the same species and one is a danio? (sp?) all i know is the one looks like a fish that required several of the species with it, and had the body shape of a glowfish, making me think its a danio. (blue and a line going from its head to the tail, small, etc pretty sure its some sort of danio)
the problem im having is the other fish. they told me they kept eating the danios? though when i transported the fish they didnt bother the danio, though in the tank it keeps hiding among the decorations and rocks.
so could anyone give me advice on these fish? i have all three in a ten gallon tank, with airation, a 75 gallon filter, and plenty of plants and stuff.... well you can see it in the picture. and i have the temps set at 70 degrees.
i plan on moving them into a 40 gallon tank once i get more info on the fish i cant ID, and im going to get more danios as well if there really a fish that needs several of its species around.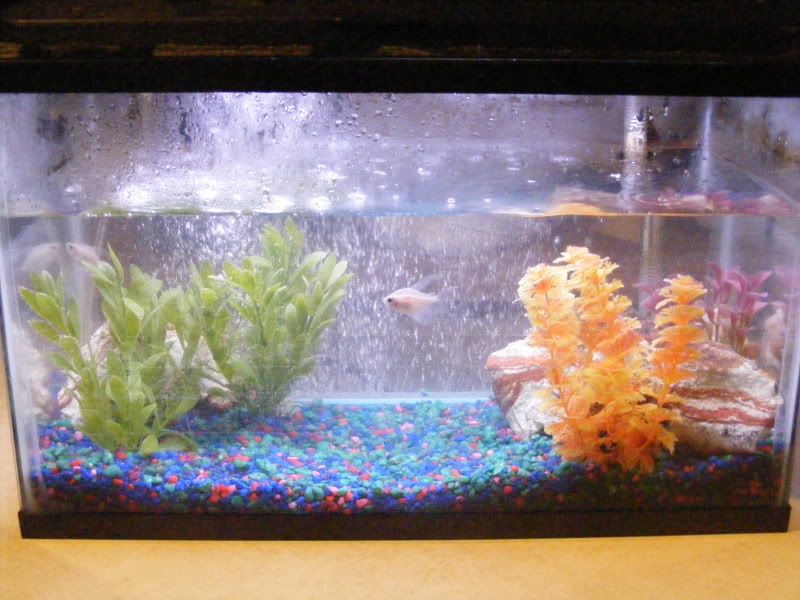 theres the fish i cant ID. no pic of the "danio" because the little guy wouldnt stay still or in the open long enough to take a good picture.
so can anyone help me with this? ive owned fish before but only bettas, gouramis, and a goldfish.