My Avic scared me a few weeks ago by having a bad molt. I thought she/he was going to die. I found her dangling by one foot from her screen lid. (I'm just going to call her a female even though I am not sure).
She looked dead but when I detached her she moved a little so I put her in an ICU. I had no idea she was molting but there were two crickets loose in her cage so it was a good thing to move her anyway, plus she was dangling from the ceiling and could have fallen and died. I watched her for an hour or two and she just laid there looking dead. I decided to go feed my dart frogs real quick and while feeding the frogs I kept glancing at her ICU. Well, one of the times I glanced over it looked like she had too many legs so I rushed back over because she didn't look right. I was freaking out until I got to the cage and realized she was standing on a molt. She had molted within about 2 or 3 minutes!
She didn't look so good. She was very floppy and couldn't walk properly. Her legs bent the wrong ways. She was transparent. She flopped to the corner and did this...
She stayed like that for hours. Being a worrywart and feeling helpless, I took her ICU and put it on top of the roach colony. I placed her ICU near the roach warmth bulb but not too close so she'd have the choice whether to go towards warmth or not. After a couple hours she floppy-walked towards the warmth and hung on the side of the container for a couple of days. She was so floppy it was scary. When she tried to walk she had legs turning the wrong ways and was walking on the top part of her foot instead of the *sole* of her foot. Her limbs were like wet noodles. It made me cry to see her like that.
(I know the top of the roach bin wasn't the best place to put her but it was already set up with a heatbulb and wanted to move her as little as possible. Luckily my dubias don't seem to have any mites. It was the best place to put her at the time. The nightglow heat bulb is the one pointing mostly downwards, the empty one was used as a spacer to keep the other one at the angle I wanted.)
So, after a day or so she looked much better and decided to go twist up her molt so I couldn't attempt to sex her. Brat.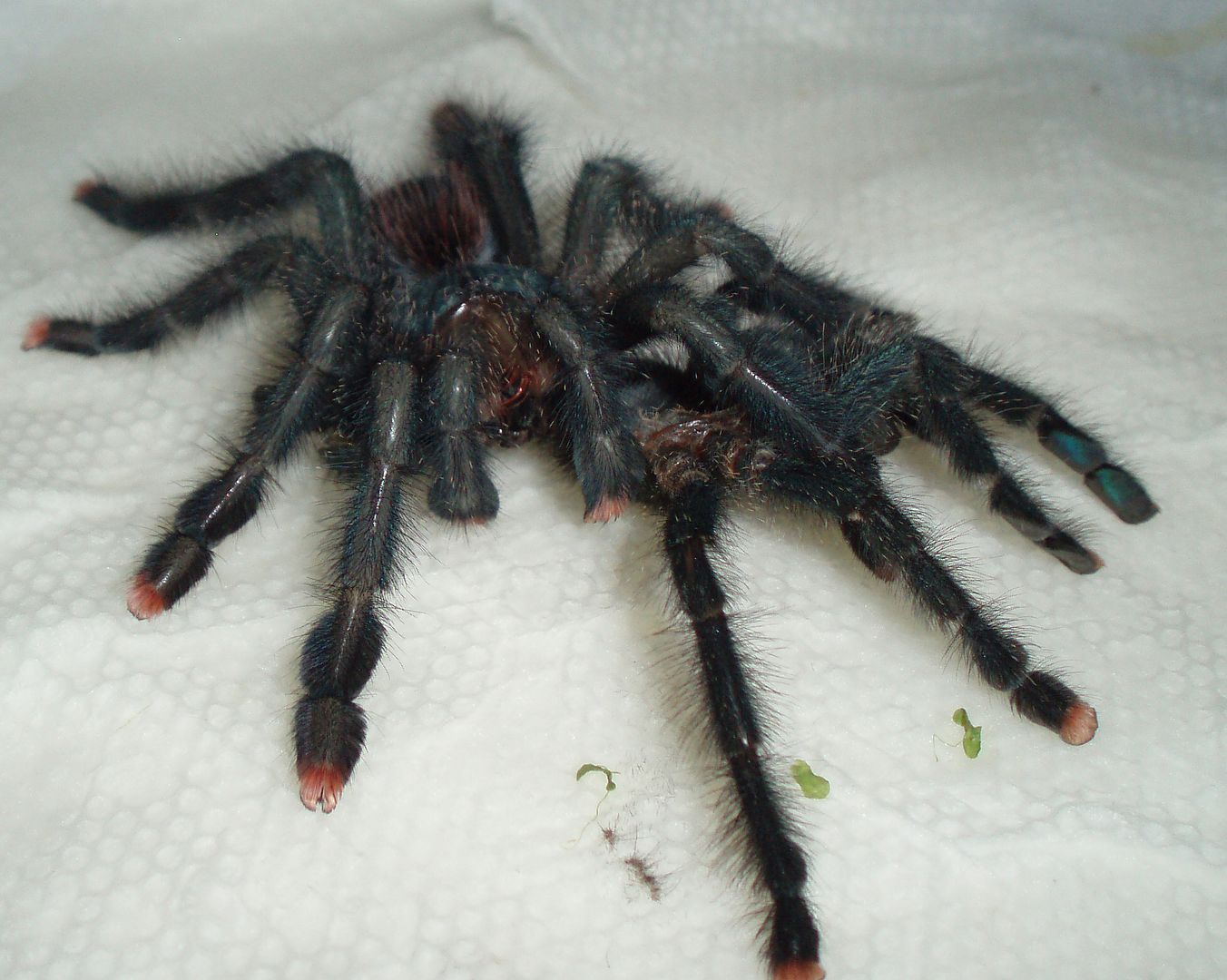 It was a pretty big scare she is now doing just fine and is back in her regular cage. She has eaten like a pig and looks great.