So a couple of weeks ago I finally decided to purchase a couple of pokies, they were to be my first ever. Until now the only Old World species I've kept has been an OBT. I found a seller (who is very nice by the way
) and purchased two slings, a P. rufilata and a P. ornata. I was so excited, tracking the package, setting up enclosures, all of the usual stuff. Unfortunately it snowed the day of arrival, and I couldn't get the package until the following day (last Friday). Friday morning I was up and off, fish-tailing my car all the way to the post office! I picked up the box and raced for home. Opening the box was just like I knew it would be. The heated packing job was fantastic, even with the weather there was nothing to worry about.
I went for the P. ornata first, and was dismayed to find the sling in a severe death curl, motionless inside the damp paper towel. There was zero response, even with a very gentle touch. I set it aside in the paper towel so I could check on the P. rufilata. The P. rufilata was completely fine, practically letting itself out of the vial! I know now why people always talk of their speed! So I got the rufilata settled in, and cleaned up the packing. The last of everything was the P. ornata sling, which I checked again just to make sure. It was still curled and completely unresponsive. It was a little upsetting, but I understand that these things happen. I folded the paper towel and placed it in the trash with the packing.
Fast forward to late Sunday night. I'm talking to a friend on the phone, when I notice something walking along the wall, nearly on the ceiling. It is rather uncommon for me to get insects from outside in my apartment, but it's happened before. From the couch though, it looked like a spider. Kind of a big one for this area. I thought: "Cool it's a spider, let me check it out". I walked over for a closer look, and saw this: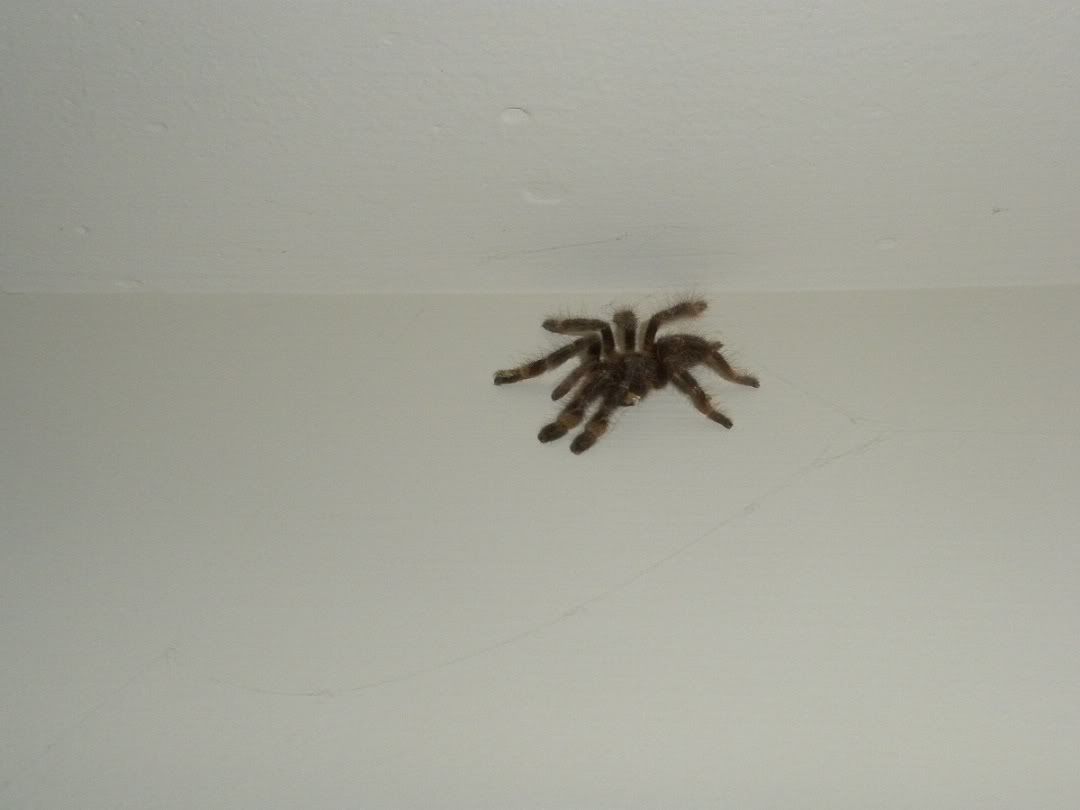 The next words to my friend were: "Can I call you back in a second? I think there is a tarantula walking around on my ceiling."
She was more than happy to let me go LOL. I quickly ran back to my room to confirm that all of my t's were still there, which they were. Back in the living room, the mystery guest sat quietly, daring me to come any closer with my catch cup:
After a bit of negotiation I managed to catch the little guy. Whereupon he moved into a stance that I had before seen only in my dreams, and in the Genus Poecilotheria thread in the tarantula pictures section of this forum: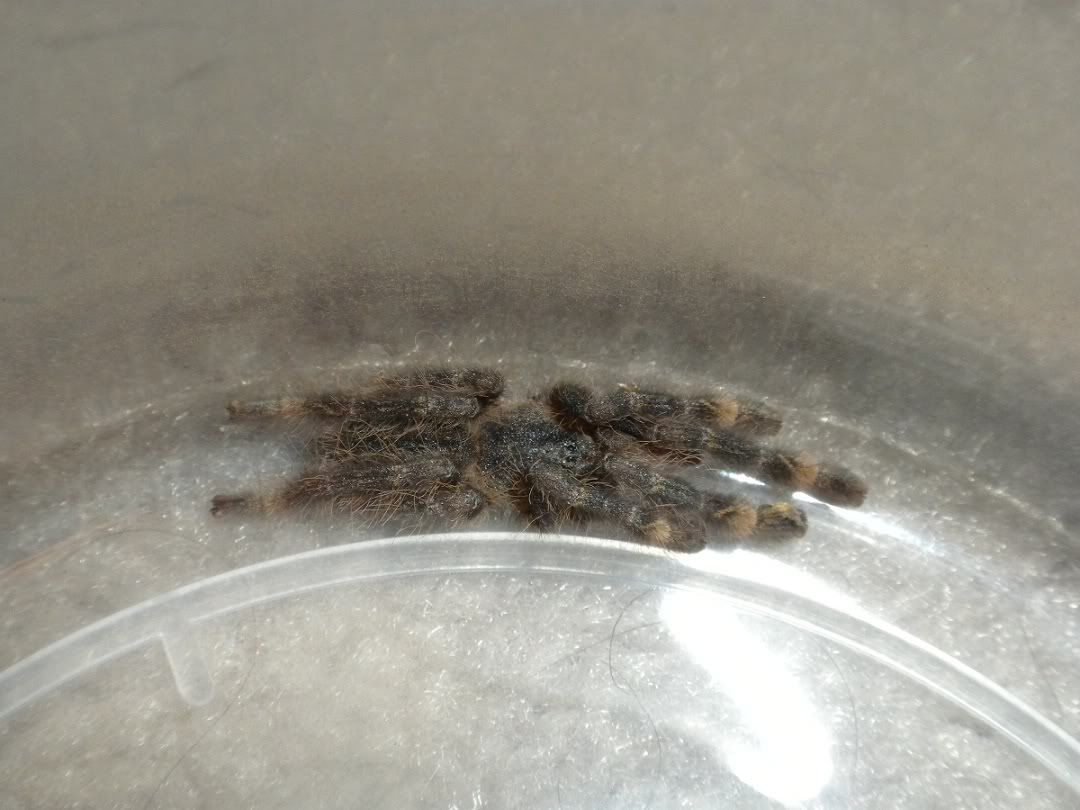 I would appreciate if someone more knowledgeable than I could confirm this species for me, but I am nearly certain it is a Poecilotheria ornata. THE Poecilotheria ornata. And if that's the case, it has seemingly risen from the dead, dug its way out of the trash, and spent the weekend running around my house! I could not be happier with the sheer coincidence of this, finding it by total chance and in (so far) perfect health. I'm aware of my rookie mistake though, in my decision to not monitor it in an ICU setup just in case. That won't be happening again on my part. Perhaps it helped that the sling was wrapped in a damp paper towel? It came like that in the packing though :? so I don't really know why it was curled in the first place. At any rate, it looks great now! It is now in its new home, drinking water from the side of the enclosure.
I am slightly concerned though, if you look in the second picture, something seems to be stuck to its second left leg, and to the tip of its right front leg. Could this effect its next molt? I don't want to put the sling through the stress of trying to remove the particles if I don't have to, and I'm not sure how I would go about it anyway due to the small size of the sling. Any advice would be appreciated here.
I always enjoy reading the lost and found success stories of other people's t's here, but I never thought I would have one of my own. The capacity for survival that exists in these creatures is truly amazing.