Joined

May 1, 2004
Messages

2,290
Decided to post a few pics of two of my snakes. The first-up is a three-foot female Black Rat that I found stretched out in the front yard a couple of days ago, being dive-bombed by screaming Bluejays and Mocking Birds. That's how I knew to go check out that part of the yard in the first place, because of the racket those birds were causing. Nine times out of ten, when they're really raising Cain like that, it's a snake that's causing it. She just lay there while I reached underneath her and picked her up, never once coiling to strike or musking. It turns out that she is very gravid, and the eggs can easily be seen and felt. She's not very large, so I guess this is her first clutch. She does have some healing nicks, probably rodent bites, especially around her face but is in otherwise good shape. Again, she's very docile. She did surprise me by eating a f/t small rat AND a mouse yesterday; most of my female snakes go off-feed weeks before egg-laying, and many snakes won't eat in a new environment for several days, anyway.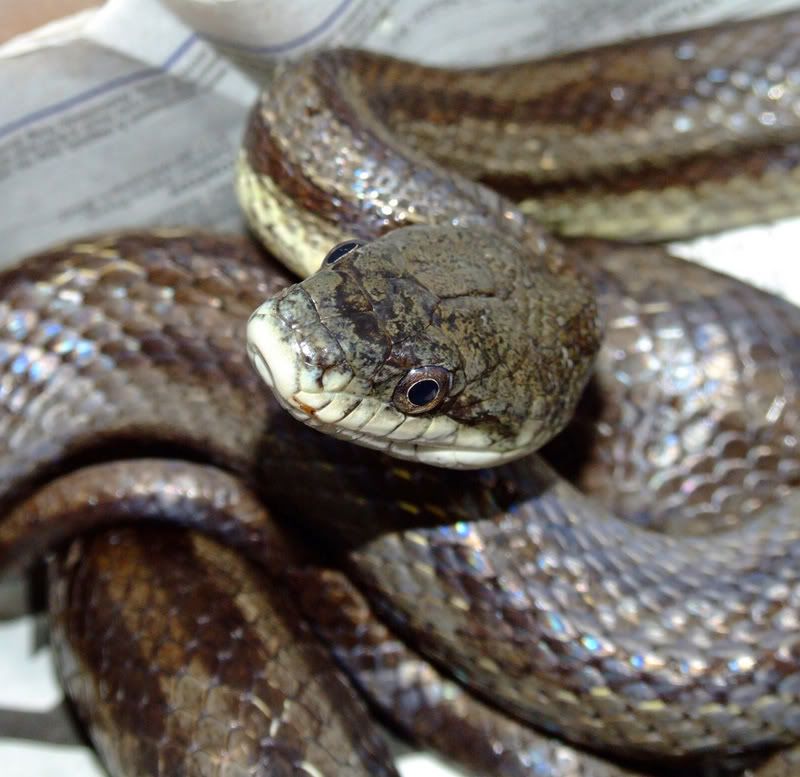 Next up, my old male Eastern Coachwhip. This guy is about eight feet long, and has fathered several nice clutches of babies for me. He is about the sweetest snake I've ever had. I take him to educational programs where he's handled by little kids, without ever having seen him try to bite. He'll sit on my lap and watch tv for hours if I let him. The only drawback to him is that he almost always has trouble shedding his skin and has to be helped. He usually manages to remove the head area skin, but stops and gives up once the shedding gets a bit past his neck. I spent about half an hour right before these pics were taken helping him out of the last shed, even having to pull both eye caps this time. He just takes it all in stride. Sometimes I wonder if he just doesn't expect me to do this for him, so he just doesn't put in any effort to shed by himself! He's got old scar tissue at the end of his snout where something had literally bitten off the end of his nose when he was captured, but that doesn't seem to be the cause of his shedding issues. None of my other Coachwhips have that problem.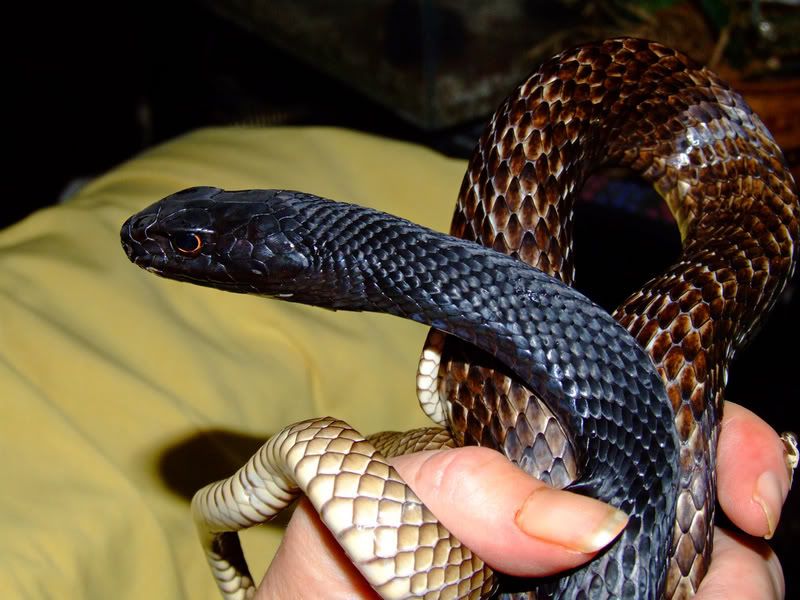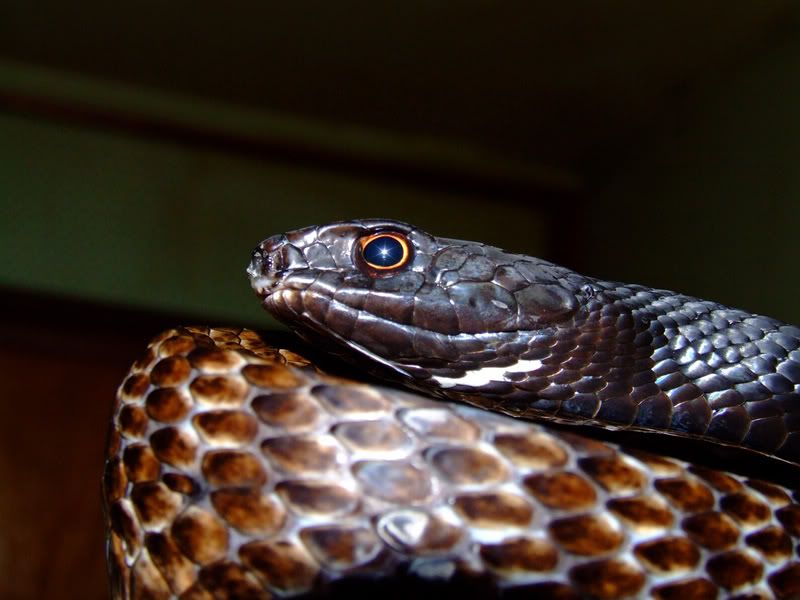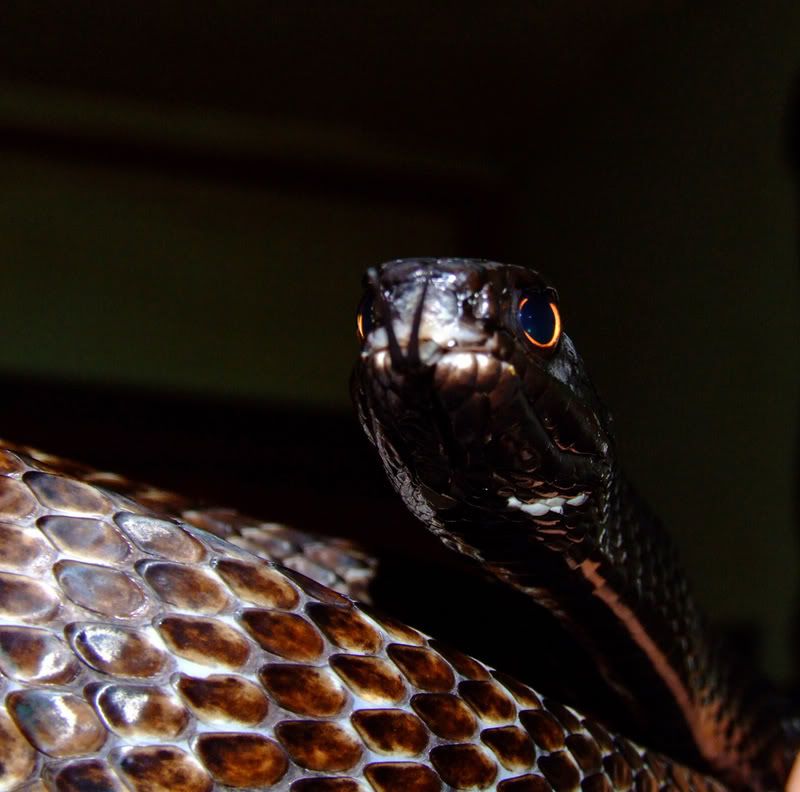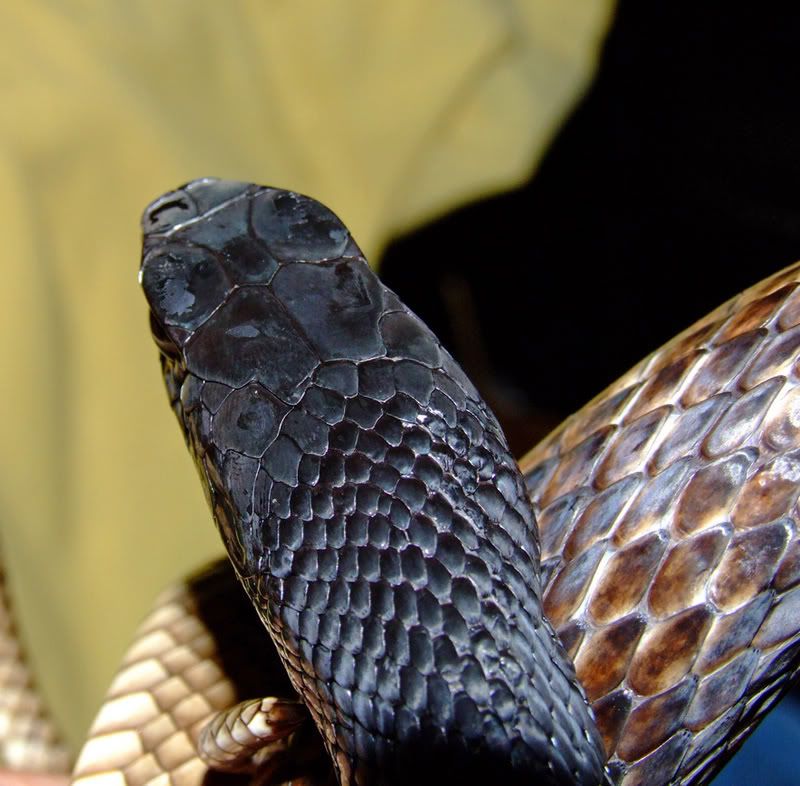 I love the way these snakes' heads look, like black velvet.
pitbulllady