Joined

Nov 18, 2004
Messages

1,234
In another thread I said I would elaborate on this topic so this is what I'm doing. If this doesn't belong in this forum then please feel free to put it wherever it should be.
To start off let me first tell you that wildlife management is a very complicated science. I am going to do my best here to give you the basic information about wildlife management required to better understand the subject. I am doing this because public perception about this is often flawed and half truths or incorrect general knowledge is often passed around to the point where people don't know what to believe. I will use deer as an example here.
So lets start with a basics.
Individual
An individual is an organism that makes up one part of a population
Population
A population is a group of interbreeding individuals of the same species living in a given area
Birth Rate
The number of individuals born into a population annually.
Death Rate
The number of individuals that die annually
Immigration
The addition of individual into a population from an neighboring population
Emigration
The loss of individuals of a population to a neighboring population
K=Carrying Capacity
Carrying capacity, or "
K
" is the number of individuals of a population that can exist indefinitely in an area.
When:
(Birth rate + Immigration)-(Death Rate+Emigration)= 0
A population is said to be at equilibrium.
Generally this point of equilibrium is the carrying capacity for the population.
By using your imagination you can understand how many unknown and known variables might go into calculating that formula for any given species and how many years of research it takes to gain reliable figures.
A simplistic model for population growth looks like this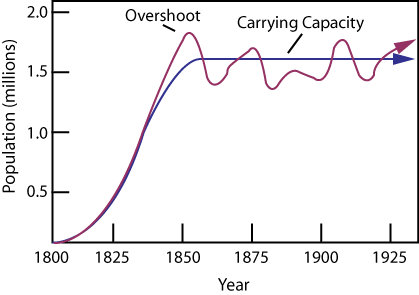 As you can see, given favorable conditions a natural population will grow exponentially until it reaches the carrying capacity of the area around it at which point it will level off. More realistically you will see this wobble effect whereby the population overshoots the carrying capacity and continues to grow and decline, grow and decline but still hovers around
K
.
Deer represent a management issue for a variety of reasons. One that is simple to understand is that their main predators have been extirpated (made locally extinct) by eradication programs. These major players include wolves, bears, and mountain lions.
Because of this loss our death rate is lowered. With less predation there are more individuals surviving. Please remember I'm trying to keep this as basic as possible, there is more at work here but I will limit it to what the average person needs to know to understand this.
Removal of keystone predators (wolves, bears, mountain lions) renders a natural system into an artificial one. Things aren't going to work the way they once did. Imagine if you will an old grandfather clock that is missing a cog. You have to constantly adjust the time because it is no longer functioning properly without that missing part.
Now as mentioned by RoachGirlRen, a healthy female deer usually has twins every year. When food is very plentiful, triplets are common. This means that every year the population doubles.
This poses a serious problem on the local environment that is sustaining this booming population. More deer means more browsing. Here is an example of how heavily deer can impact the vegetation in an area.
As you can see the area the deer can access has been severely defoliated.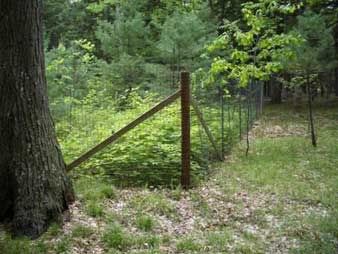 Notice the lack of vegetation below the browse line.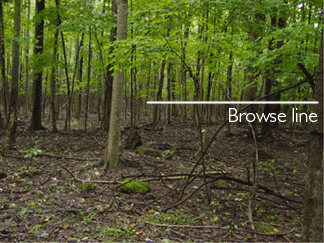 This over browsing by an unsustainable deer population alters the rate of forest regeneration. Young plants cannot survive and only the plants that are inedible or large enough to have their leaves out of range are able to survive.
This directly impacts the vegetative and forest structure of an area. Some of the things you notice first in an area that is over browsed by deer is the extirpation of bird species that nest in the understory. You will also notice increased soil erosion which in turn affects streams rivers and lakes by increasing the turbidity of the water (amount of sediment in the water column). This is a problem for species that need clear cold running water such as trout.
A common misconception is that if you let things be they will take care of themselves. This is true in an unaltered ecosystem, however in this case, without reintroducing keystone predators this problem will not resolve itself.
It is for this reason that deer are a managed species. Hunting as opposed to poaching is a method of removing excess individuals from a population. Because deer hunting is regulated, wildlife managers can gain exact figures each year in relation to how many animals were removed by hunters. This lets them measure the success of their management practices and lets them alter them as need be.
Culling occurs in areas where hunting is not practical. Typically this is in suburban areas and requires contracted sharpshooters or bow hunters in order to maintain public safety.
"
But if the population overshoots its carrying capacity it will experience a population crash and resolve itself.
"
This is another argument you might hear. The population will crash yes, but it may not recover. The forest needs time to recover first before it can sustain a deer population. The population may just explode again in a few years at which point it will again experience a severe crash. Chronically starved deer are also much more susceptible to disease and their parasite loads increase. For the average person the major affect this will have on you is the increased risk of lyme disease.
While this boom bust cycle is occurring the community structure of the environment is going to continue to change. A degraded system is much more likely to experience invasion by exotic plants for example. There is also the matter of the other animals living in this area. By drastically changing the vegetative structure of the area the habitat is no longer what it once was. This results in extirpation of local fauna as I mentioned above.
After an 8 hour day and writing this up after getting home I am out of steam. Post any questions or rebuttals below, I will address them when I have the energy and time.
Last edited: