Joined

Jan 5, 2005
Messages

8,328
(scroll down a ways to skip to the pictures
)
The Wastelands is my city's unofficial dump. Amusingly enough, you can see the official dump from parts of the Wastelands... but my city is not exactly filled with great and honorable people so...
Climate and Ecology
The Wastelands is pretty close to, if not,
chapparal
. Chapparal almost has two faces, a summer face and a winter face.
Chap is very hot during summer reaching over 100*F/39*C and some parts reaching 115*F/46*C. It is also very dry in the summer. It does rain periodically in my chap in the summer, but only a few days out of the whole summer. In summer chap is characterized by the earth tones... dead tan/yellow grass, barren bushes, and dry sandy dirt. Winters are actually quite nice though, with my local chap typically sticking around ~70*F/20*C and rain is plentiful. The chap explodes in spring... it is quite a glorious riot of colors... green EVERYWHERE and California poppies push the visible spectrum into ultraviolet, i personally think
Globally i think i have some of the "softer" chap, with places in africa or australia getting much rougher!
Because of these somewhat harsh conditions plants and animals have evolved to live there in interesting ways. Virtually all plants have spikes on them, and most of those spikes have irritating chemicals on them. A lot of the plants seem to dry out and die over summer, but will perk up right quick with a rain... and grow like gangbusters in spring! Larger plants run to manzanita, star thistle, purple hate ( i don't know it's "real" common name, but it has inch long thorns and can hide in stands of other vegetation so when you move them aside the purple hate bites you, i'm pretty allergic too it, too... joy!), stunted trees (montane chaparral has pine trees a lot of the time around me) and i don't really know the rest. The vast majority of animals are nocturnal. My local diurnal menu includes: flies, all manner of hymenoptera (ENDLESS kinds of ants! i've seen probably 20-50 easily distinguishable ant species in the various California chap i have had the pleasure of exploring) , dragonflies, lizards, squirrells, lots of bunnies, and birds. At dusk, the real party animals come out to play though
Giant centipedes, scorpions, tarantulas, rattlesnakes, coyotes, owls, rubber boas, legless lizards... all kinds of amazing animals to look at!
When i started hunting it was around 10am and already 95*F... bring and drink at least a pint of water an hour. I don't know what the "official" recommendation for hydrating yourself is... but PLEASE remember if you are doing any hunting in the heat you can get sun burned, sun stroke, or dehydrated pretty easily!!!
Pictures!
I spent about 2hours on this hunt. I started to feel VERY poorly and headed home so i will probably photodoc more of the features of the Wastelands in the future. The Wastelands is approximately 10-20 square miles (oooh... 25-50 sq.k) and bounded by residential or commercial zones on it's W, S, and E borders with a freeway (I210, if you care
) for its norther border. Once you get a couple hundred feet in though, the view of the surrounding city dissappears
some landscapes (look at all the evidence of fires! chap is notorious for summer fires):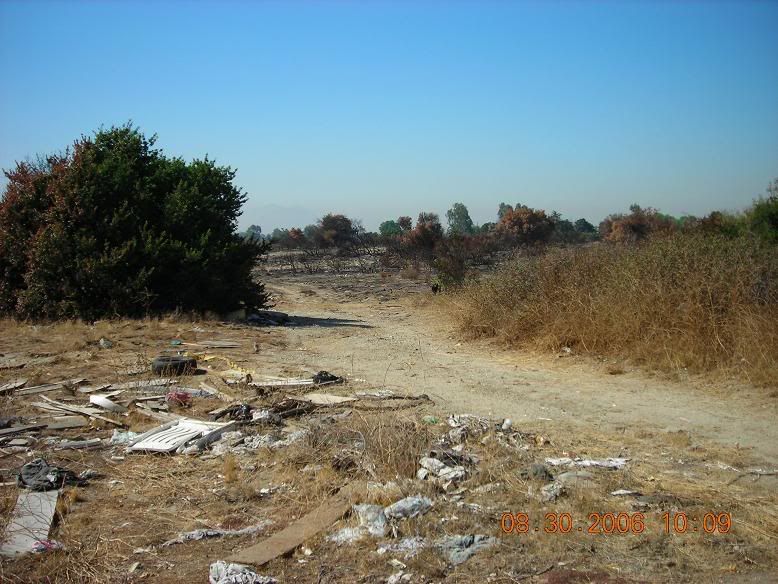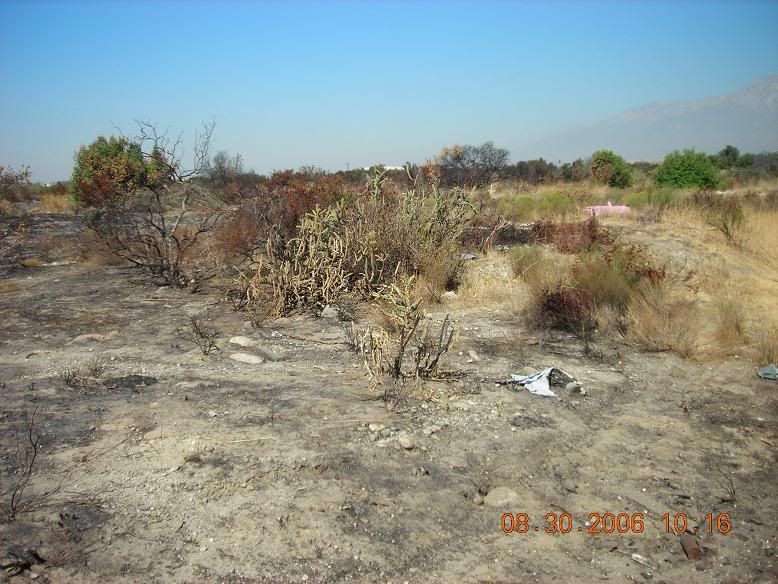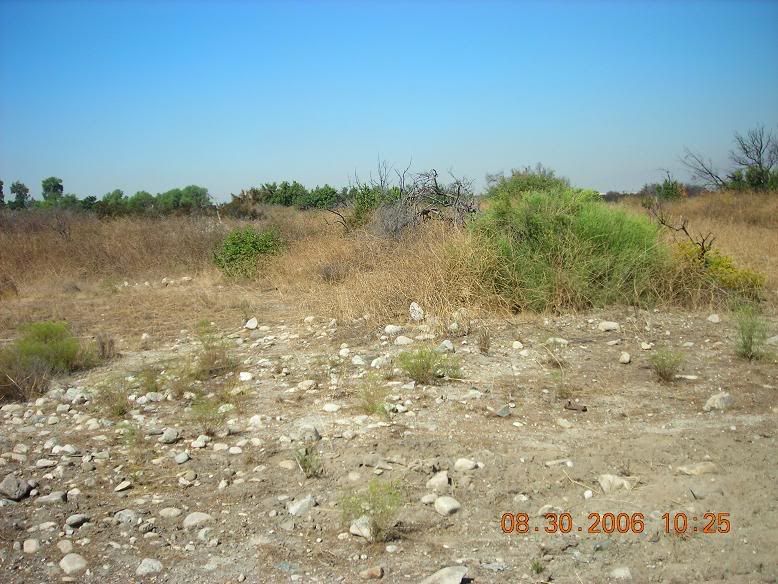 You might be wondering why i call it the wastelands... well:
there are tons of places like that. I have a punch more random pics of the crap ppl dumped. I actually *like* some of the debris... mattresses and couches are awesome places to look for bugs! But all the toxic stuff i find really pisses me off!
One of the interesting features of my chapparal is the quite large Agelenopsis grass spiders. Some reach 3+" DLS (7.5cm) and some of their sheet/funnel webs get HUGE. the largest i have seen was a very well constructed 5 FOOT (er, 1.5m) diameter sheet funnel. It was sort of like a scene from "Arachnophobia". It is entertaining to collect small specimens of the grass spiders as the grow very fast
zoom
I really want to get some good pics of a truly massive web. That web was about 2'/ 60cm diameter.
My city is so hard core even the darkling beetles do smack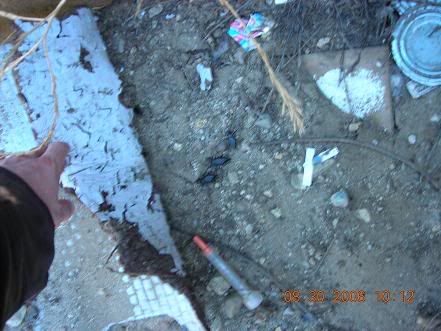 And now for the really fun pics... in situ!
I believe i have caught at least two species of scorps (there are something like 25 sp and ssp in my surrounding three counties (counties are subdivisions of a state that contain one or more cities. states are subdivisions of USA (hehehe)) (i live in San Bernardino Co. but quite close to parts of Lost Angeles Co. and Riverside Co.).
I am pretty much a flipper hunter... i just walk around flipping stuff over to see what is shaking underneath. I have tried flooding a few times, but in summer chap i am MUCH more interested in drinking any water i have been lugging aroudn for miles, rather that pouring it into random holes (unless it is in my face and full of teeth, i guess).
The following pics are ofabout the fifth or sixth specimen of one of the species (lol, i'm eyeballing the species for now... but i am researching them
here on my website
.
Ah, this looks like a good board to flip. It is decently shaded (for the area that is decent shade!), lying flat on the ground, and is pretty good size.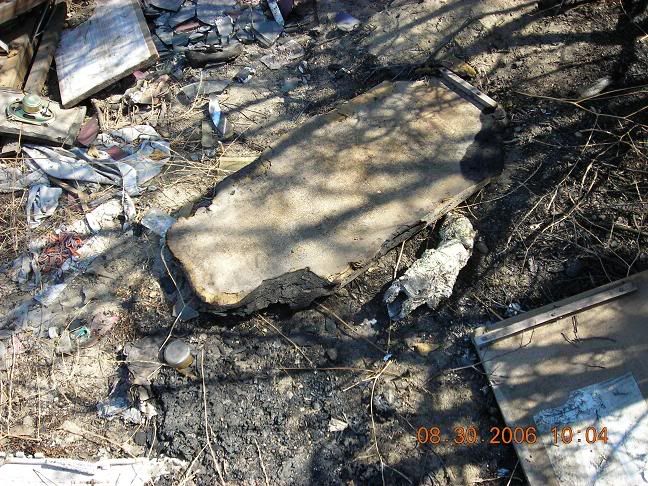 FLIP!
hmm, do you see anything?
click here to see what i saw when i first flipped the board over
how about now?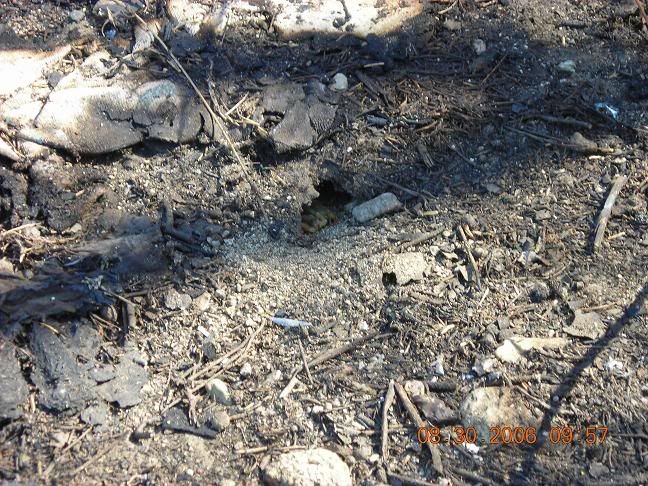 zoom
Here is the pretty little thing after i caught it
zoom
ZOOM I SAY!
The scorpion was in a burrow that seemed to extend back more than the couple of inches i could see directly into. I have seen this type of burrow enterance numerous times, but this is the first time (er, i *think*) that i have caught a scorpion in one! I am quite curious if the scorp digs this type of burrow itself (horizontally oriented enterance that is wider than it is tall, built in VERY sandy soil). This type of burrow seems to be much more horizontally than vertically oriented... this is a good thing! When it is safe for the bug i like to try to block their retreat by stabbing a knife into the ground behind them and then grabbing them very quickly. This one stung me a couple times then calmed down. The venom doesn't seem to do anything more than sting (lol) at about .1/5 (like a papercut that gets some sweat in it, dang, that is actually quite similar to what it feels like) and in no way dissuades me from hand catching them
(my hand/fingers looks like they are in a funny position cuz they are... i was holding the scorp in that hand
Spongy absorbant debris (pillows, mattresses, various clothes drifts) is probably my favorite to look under. I think it is edging out boards (my second favorite) in the number of interesting things i find under it.
This appears to be a sponge cushion from some kind of seating pad.
well, what do we have here?
zoom
why, it's a cute little scorpion!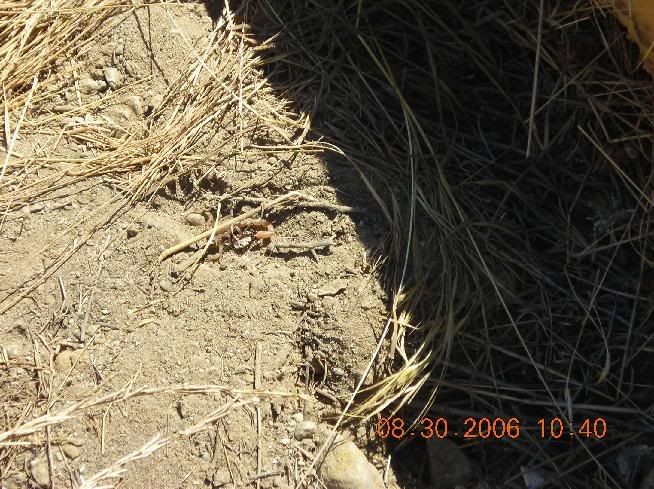 zoom
This guy was much more stingy and its stings were .2/5. It actually stung me enough that i dropped it! I recaptured it after it made the mistake of retreating towards me to try to get out of the sun
I am certainly not sure... but i *THINK* this might be a third species. It is small, wellunder 2"/5cm and my other specimen is similar size. Both are quite a bit more nervous seeming that the other lokes i have caught in the past, and both seem to have slightly more painful venom than the 10 or so other specimens of other species i have stung by
I do have a couple few more pics that some might be interested in, but i don't want to make this post require 2-3MBs of transfer for dialupers who chose to brave it