Joined

Sep 23, 2010
Messages

4
Today is feeding day for the slings, so I pulled them down to check on them and found that my PZB slings have molted. YEAH! That makes four successful molts all together for us.
They have doubled in size. This is the best I could do for now, but I will get some better pictures later.
and this was before the molt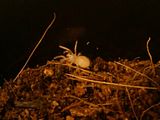 They had darkened quite a bit Sunday, I'm kind of surprised it happened so quickly, but absolutely delighted. I can't wait for more molts to see how their adult colors will emerge.