Joined

Jan 20, 2006
Messages

652
I went to the Orlando Science Center yesterday to see "Our Body: The Universe Within" (which was amazing, btw). Admission got us in to the entire museum, so we spent about 3 hours wandering around. When we parked in the garage, I was pleasantly surprised to see the OSC vans parked near us, and they were COVERED in rosehair tarantula graphics! I knew there had to be Ts inside somewhere.
I couldn't resist posing for a pic with the big hairy evil spider. She tried to eat me. ;P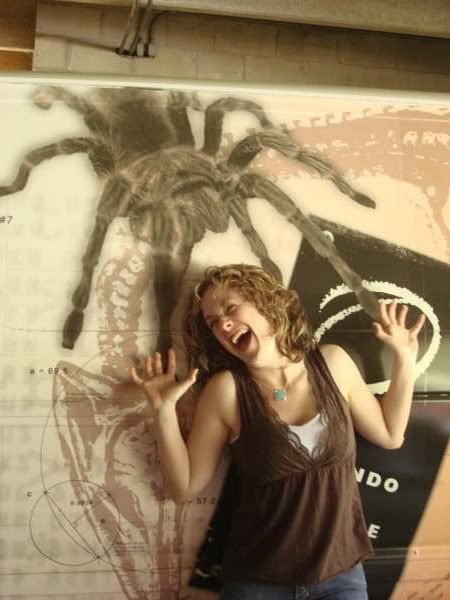 Anyhoo... I finally found the Ts on the first level in a small room with other small exotic animals (a few snakes, lizards, and some giant millipedes). I was most interested to see how well they were housed.
They had one G. rosea, approximately 4", and an A. versicolor about the same size. Both were housed in 10gal aquaria in almost identical setups. They were on dry peat moss with comfortable hides, a couple plants, rock/log decor, and a water dish. I was fairly impressed. The A. versi was in a terrestrial setup like the rosie, but had made a nice web in one of the artificial plants near the top of the tank. You actually had to crouch down to see it. It made for a crummy public display, but the T was doing what it was supposed to be doing.
The biggest flaw, which I actually didn't notice until a friend I was with asked what it was, were the gel cubes in the water dish. There weren't any employees in the room, so I left a note for the staff saying that the tarantulas couldn't actually drink any water from the gel. They would be much happier with plain fresh water in the dish, and that they could put a couple rocks in the dishes to prevent crickets from drowning. It was short. I left it next to the rosie's tank.
I've heard so many horror stories, that I was honestly expecting much worse... either that, or a huge amazing exhibit of lifelike natural habitat vignettes for multiple species.
What sort of public displays have you guys seen, and how good/bad/ugly were they?
Would you have reacted any differently in this situation?