Joined

Sep 23, 2010
Messages

4
Rehoused my LP due to it acting "funny".
Ok, I admit, I don't know what funny is for an LP, only having about 2-3 weeks experience with one, but mine isn't eating. Maybe I'm being overly paranoid, but that's what happened with Squirt. S/he stopped eating and I had thought it was due to being in pre-molt, but I know Chocolate molted recently due to the darker coloring and the molt I found in it's container when I got her or him. :8o
I am hoping to see it start eating again. I read about everyone else's LP being a voracious eater and mine hardly ever eats. It acts scared of the tongs and I've watched the cricket jump all over it and it just skitters away like it's terrified (I know, it can't be, but you know how we humans have to humanize everything we care for... soo....
) I had it in a KK and I'm thinking it was too small for it. I probably should have bought a 5.5g tank for now, but I had a spare 10g, so I used that. I guesstimate that Chocolate is about 2.5" ...the 10g is a bit of an overkill.
I provided a hide and a new waterdish and some pothos plants to up the oxygenation as well. I'll let you know how Chocolate settles in.
Chocolate freaking out in the corner j/k
new hidey-hole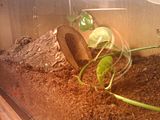 Also, I was afraid of the "bark" on the hide hurting Chocolate, so I covered it was some dampened coco fiber and will be smoothing it down tomorrow. Just in case someone says something about it.
Last edited: