Joined

Aug 1, 2009
Messages

1,393
I got a new puppy today!
I was trying to get one from a rescue.. But every one that I saw that I would have considered to get was already adopted..
Anyways.. I was looking on craigslist..
(I know! Not the best place to find dogs..) But they guy I got her from was not a breeder or nothing.. He had just bought the dog for himself.. Then moved into a new apartment.. The landlord said that the breed of dog was not allowed.. He either had to get rid of her or move.. He said he couldnt move so he had to part with the puppy..
The guy told me that she is a Gator/Ambull.. Said the momma was the Gator & the daddy was the AmBull.. (Im just saying what I was told..) She had turned 7 weeks on the the 10th.. I will be getting her shots for her tomorrow.. He said he didnt get those done!
I
almost
didnt get her.. But once I saw her.. Seen how she was acting.. I really couldnt say no! She is the
cutest
little puppy!
Here are some pictures..
Sorry they are not the best! She kept trying to goof off with Tyler!
At first he didnt want nothing to do with her.. But has warmed up to her! He is a good boy..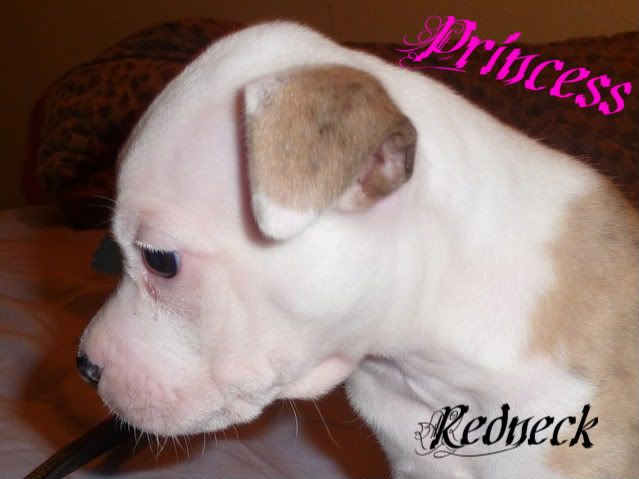 Then she took a nap.. After a little bit of goffing around.. I think the hour drive and all that took a bit of a toll on her..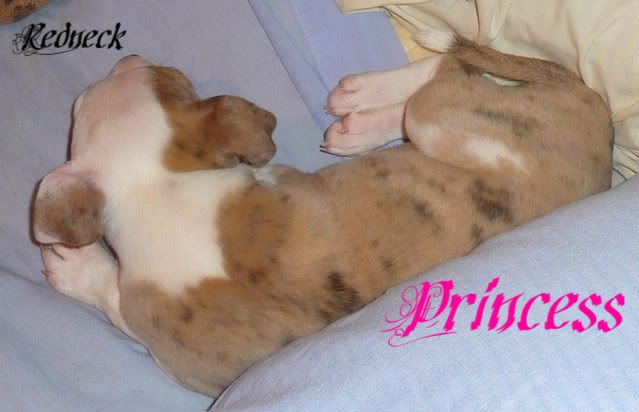 This is the first dog I have ever had with one blue eye & one grey eye.. (Looks grey atleast!) One thing that concerns me.. Is that blue eye going to cause problems in the future?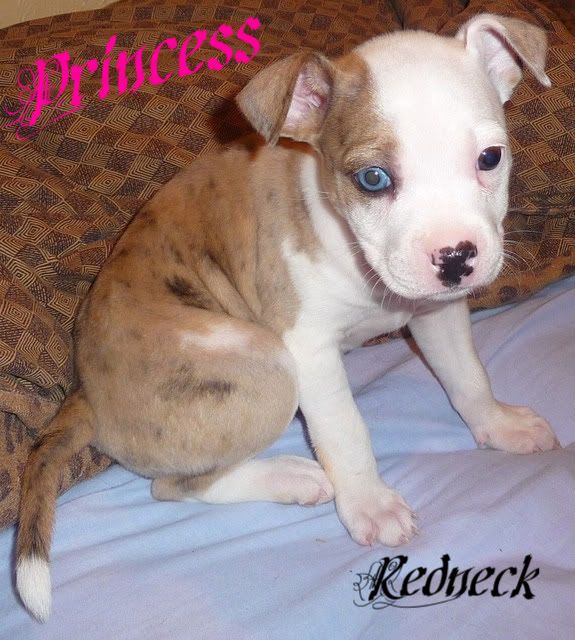 She is the cutest & really a sweet little pup! For seven weeks old she is smart! She whines when she needs to go out, she runs to you when called.. I think she is going to do good here..
Now.. I do sort of have a few questions..
The guy was feeding her some dog food I have never heard of.. First off.. Arent puppies supposed to eat "puppy" food & not dog food? The stuff he said he has been using is called
Green Brier Kennel Club "Dog Food"
..
If I should change her diet.. What is the best one?
I also forgot how to house train a puppy! Oh boy! This is going to be fun.. My Chihuahua has been house trained for as long as I can remember.. LoL!
She is doing good so far! Be when she does have accidents.. (Which I am sure she will!) What is the best actions to take? I would assume saying no in a firm voice then placing her outside.. When doing this.. Does telling them thats a no no.. Does that even do anything?
I will be building her a little fenced in area beside the house.. (No! She will not be left outside unsupervised..) Just going to be for when she does have her accidents & a place where I can let her off her leash & run..
I have no clue what to name her either!
Any suggestions are welcome!