Hello. I incubated an Aphonopelma Anax sac and my babies are currently molting to second instars. I was expecting them to be all brown and furry after molting but they don't look much different than they did as first instars. They are still white with a black patch of urticating hairs. (They had the black patch before molting to second.) Their legs are a tad bit longer than they were as a first instar, but they haven't changed dramatically. They are much faster though, and more responsive. I saw one throw a threat posture towards a fruit fly. LOL
I placed a few fruit flies in with the ones who have molted but I have not seen any of them eat yet. (I waited a few days after they molted.) Most tarantulas will eat at second instar so I assumed they'd eat.
Have any of you breed A. Anax? If so, when did the babies begin eating? When did they turn brown and hairy? I know Anax are slow growers but I didn't think they'd still be white at this point. I would appreciate advice anyone who has breed Anax would care to offer. Thanks.
(Fyrefly, if you see this thread, have your babies molted yet? How are they doing?)
Pics...
a new Second Instar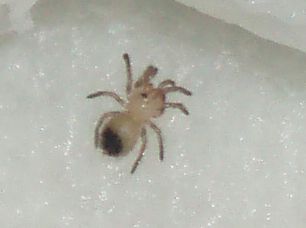 Notice my finger, they are still so small
Molting to second
As an early First Instar
Egg with legs

Mother (Peanut) and a male I was breeding her with. She has a better cage now.