Joined

Jan 20, 2006
Messages

652
This might by my strangest T stunt I've seen yet.
A little background...
My P. irminia is approx. 3.5", and housed in a tall acrylic craft box with tons of holes drilled in it. Her water dish is in one corner. I've glued a tray with a drain hole (the lid off of a flightless fruitfly vial) to the corner, several inches above the substrate. It's just the right size to set the cap of a water bottle in. This way, I can replace the water dish every week without re-gluing something to the wall.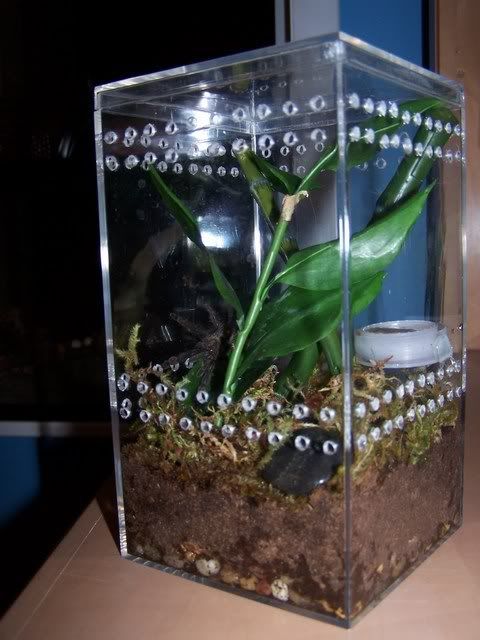 It's actually a bit higher up than in the pictures, because the substrate and moss have settled quite a bit.
Anyway... I went in to check on the Ts last night (it was completely dark in the room). As I approached the tank and reached for my little flashlight, I heard something drop. It didn't sound like what I would imagine a T hitting dirt would sound like. It sounded like plastic. I checked all the tanks, and found my P. irminia frozen... looking like she'd been caught in the act... sitting at about the level of her water dish. The actual bottle cap was lying beneath her on the substrate. I was somewhat amused. She's tossed her water dish before when its empty, but I knew I'd be doing tank maintenance and replacing the bottlecap this morning, so I left her.
I had dinner, got ready to go out, and went back to check on them all before I left (about 2 hours later). My girl tossing her water dish was amusing, but the shocker was that when I looked in on her again, THE DISH WAS BACK IN THE TRAY!
She picked it up, climbed with it several inches, and put it back! Why would she do such a thing except to mess with my head?
I know I'm not losing my mind.