Joined

Apr 15, 2007
Messages

577
i received this MM on breeding loan. He was originally sold as an A. seemani but later ID'd as a MM B. vagans. He had already had his ultimate molt when his owner acquired him so she has no way to know what he looked like before he matured.
Anyway, i was sure he wasn't a B. vagans when i opened his container. Major bummer for my freshly molted B. vagans female... :wall: :wall: :wall:
However, i was trying to help his owner find out what he really is. i think he is an A. seemani after all - thanks to Andrew's (cacoseraph's) help. i looked at some pics of a couple different MM A. seemani's in the gallery and one still had the zebra stripes but the other did not. Also, Andrew's did not have any stripes and also had the purple sheen i saw on this guy bight natural light - though it doesn't show on the pics. Basically, this guy is all black, ventrally as well. Like i mentioned he has a slight purple sheen in natural light. His spinnerets are what makes me think he's an A. seemani after all. They are dark on the top and light (orange) ventrally. The hair on his legs is also really spikey - thorny looking.
Here are a couple pics. i know it isn't possible to make a 100% positive ID with photos - just curious what some of you thought about this guy... Especially if you've had MM A. seemani's. Thanks.
SMILE for the camera!! Actually, this is just a good belly shot - LOL
Dorsal View: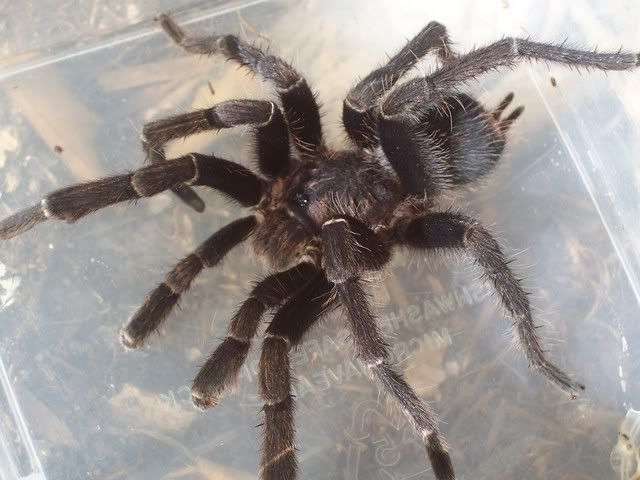 Orange spinnerets:
Pretty scary legs!!
Last edited: