Joined

Oct 11, 2012
Messages

255
Hymenopus coronatus
, the Orchid Mantis. I've kept these guys a few times in the past and only managed to breed them once with rather poor results--the females laid plenty of oothecae but only very few, very weak nymphs hatched out. I just obtained a few more and hopefully things go better this time.
This is a first instar nymph and their red and black aposematic coloration is thought to be a deterrent against predation for when they first hatch out. This is Batesian mimicry, the type of mimicry where a harmless, edible organism mimics one that is distasteful, poisonous, or venomous.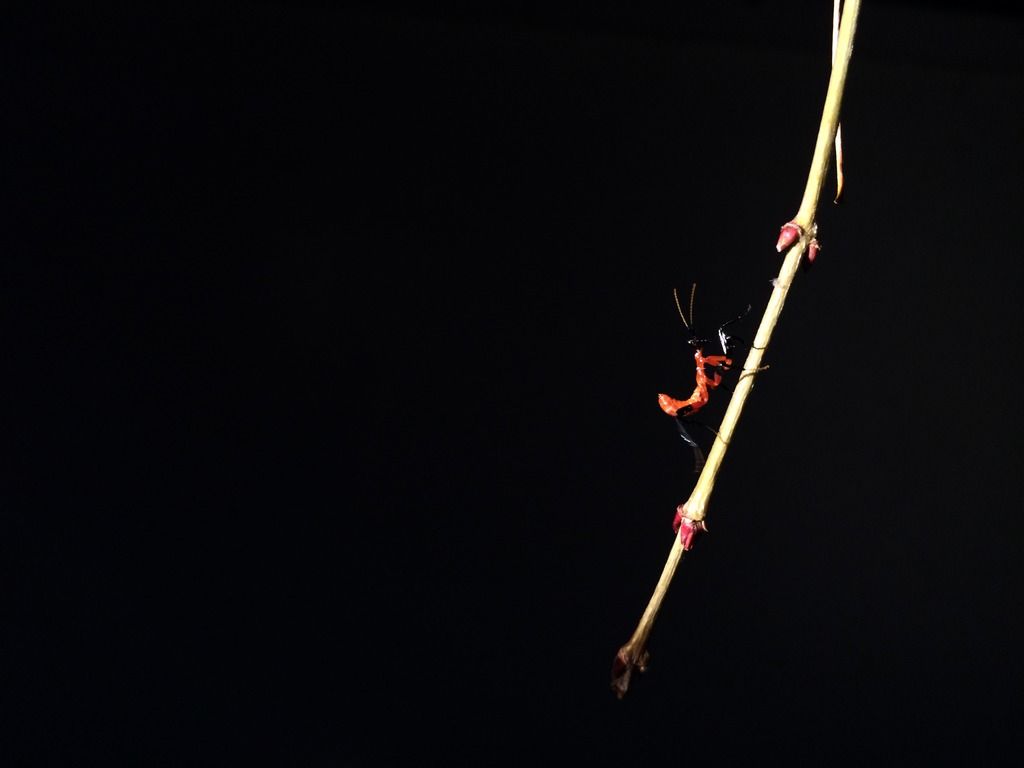 They shed their disguise as an assassin bug nymph or similar distasteful or venomous insect in exchange for that of a flower in the second instar. This is aggressive mimicry or Peckhamian mimicry, the type of mimicry where organisms gives off a signal--whether visual, auditory, olfactory, or other--in order to deceive and exploit another organism.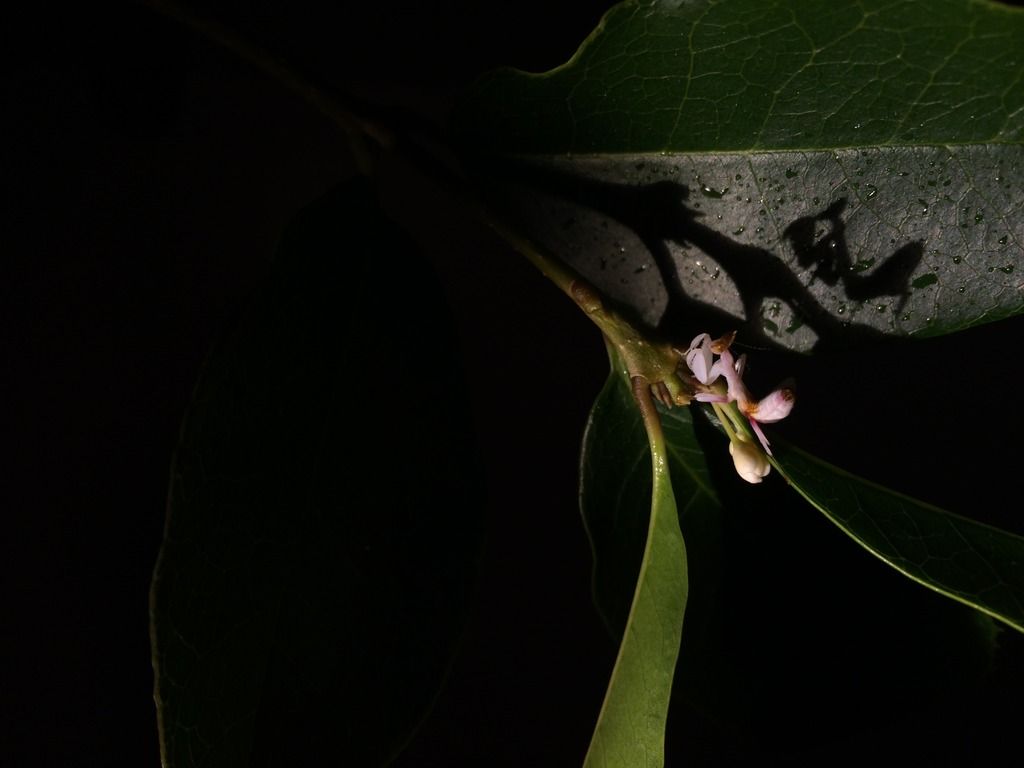 Note the femoral lobes on the walking legs that give the mantis the appearance of having petals for legs.
A subadult pair from last year. They are sexually dimorphic with the males being considerably smaller than the female at maturity. The males molt fewer times in order to reach adult size than the females, so if both sexes of the same age are kept well-fed and warm, the males may mature and begin senescing by the time the females have both molted into adults and become receptive to mating.
A pair of adults from last year. Males will sit on the wings of the females as a form of mate guarding--they physically prevent other males from climbing into position to mate and will fend off subsequent suitors. They will remain on the females for weeks, even capturing prey on the backs of the females. There's probably some selection going on here as males that fail to remain undetected would be eaten and would become less likely to be the father of all her offspring--perhaps this was one of the driving forces behind the development of the disparity in adult size.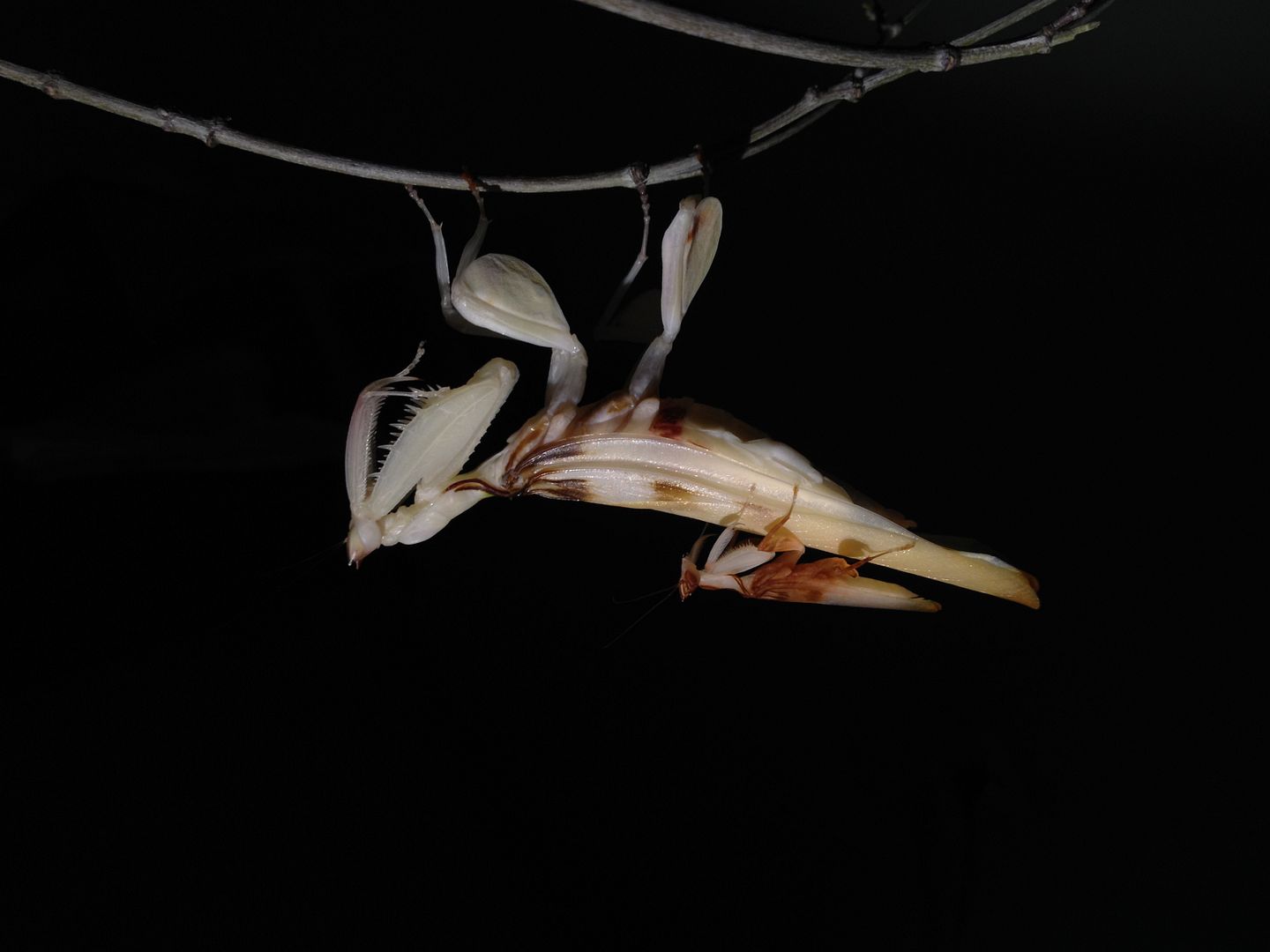 Contrary to their common name, these mantises have recently been found not to be orchid mimics, but instead, a general mimic of a large number of Malaysian flowers. They're so good at mimicking sympatric flowers that when placed alongside the real thing, they are more successful at attracting pollinators than the flowers themselves--probably because they not only appear to be flowers, but also because they give off chemical cues that mimic flowers.
A couple interesting papers:
https://www.ncbi.nlm.nih.gov/pubmed/25483791
http://www.jstor.org/stable/10.1086/673858?seq=1#page_scan_tab_contents