Joined

Aug 3, 2010
Messages

124
So, After she molted I noticed she had a black, or "wet foot". A few hours later, she dropped it. as read in my last thread:
http://www.arachnoboards.com/ab/showthread.php?t=187665
She Also has her Left Back leg (the one next to the one she dropped) In the air, Exactly like the Pinky-tea deal.
Now that she's out of her home, I see that Her foot is disformed.
Now I dont know the terms, but her 'hook' is Out of place, and her foot doesnt touch the ground, she's using the joint upbove it as a resting spot.
What i'm worried about, Is that If she drops this leg, Will she be able to survive with only 6 legs? How Often do they molt? and how many molts will it take to RE-gain a leg?


Also, What will it look like?
The whole left side of her rump will be dragging.
She's been moving around her cage just fine, I've actually seen her in spots that I havent before.
Also, She still uses it, she tried to flick hairs at me but switched to her other rear leg.
Her foot
elivated?
: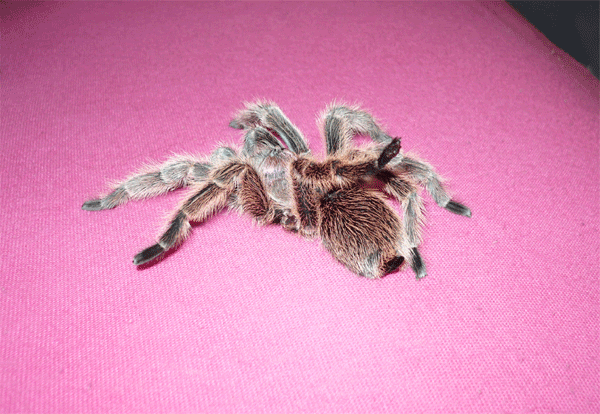 And here's a shot of her leg bent/Missing leg.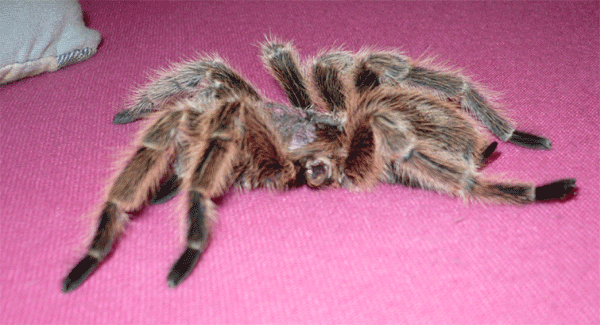 I even feel bad for taking her out to get the pictures..
ANY thoughts appreciated.
and yeah, my sheets are pink.