Joined

Jan 5, 2005
Messages

8,328
Giant Centipede Handling (Playing With Fire Pic!)
Purpose of the thread:
The purpose of this thread is to gather first hand knowledge regarding the handling and true demeanor of giant centipedes. Please post only genuine first hand accounts (or pics!) of handling experiences. Please share both triumphs AND failures, as there is a lot to be learned from both. Thanks for reading, and i hope you enjoy!
History
Having hand caught ~25 S. polymorpha with out being envenomated, and reading tons of stuff on giant centipedes led me to think that perhaps the current conventional wisdom regarding scolos could be wrong. Countless times have i seen centis described as evil or vicious. Countless are the admonishments not to handle them... and yet...
Please read and respect:
I understand giant centipedes are venomous, defensive, and potentially aggressive animals. Please do not post on this thread to tell me how stupid i am, how bad of an idea this is, or how i am going to "ruin" the hobby for the rest of you. If you feel you must vent, *warn* me, or otherwise make a cross-purpose contribution please have the courtesy to post it to this thread:
http://www.arachnoboards.com/ab/showthread.php?p=492451#post492451
EDIT: This is the poster shot of this thread for the time being:
this is from a buddy of mine. i told him something like that was too good to waste on just my old and failing eyes.
lo and behold, someone even crazier than me: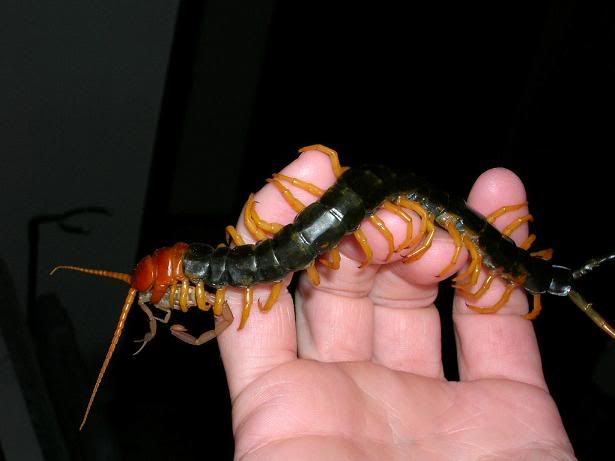 higher res and bigger size:
http://i21.photobucket.com/albums/b287/cacoseraph/pals/yikes/Dscn0267.jpg
Last edited: