Well,
After about $300-$375 and months of the slowly working on it I finally got my auratus tank finished. It's pretty cool really....i'm so glad it's done. I just need to do a few more things and get some good lighting and it will be complete.
Here are some more pictures from a journal on another site.
link
Here is a crappy shot of how it is right now.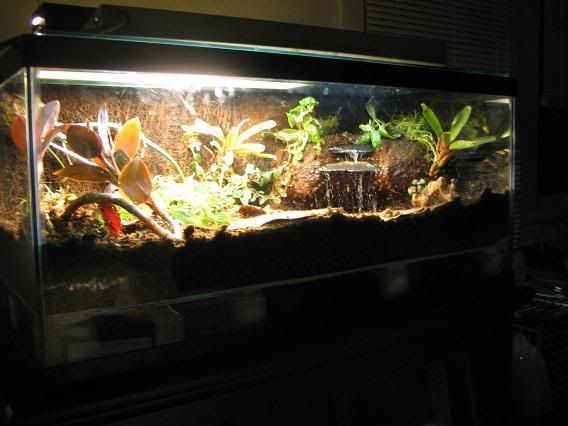 I've used a bunch of different things for dirt and it looks like the mixture is going to work. I had a moss colony going on for a while but I got sick and it dried out. So, I just used that and the peat that was with it, two different sizes of fir bark, some long fiber sphagnum and a layer of leca underneath. I also threw in a couple extra packs of kyoto moss spores on top.
I have three different orchids, two broms, a goldfish plant. I don't know what all of that green stuff is. I had another thing of tropical moss from Hawaii that I purchased from black jungle and while the moss died that stuff flourished in 100% humidity.
I put in a bunch of dwarf white isopods and some tropical springtails. I put too much yeast in a springtail culture and mushrooms took over. I put that dirt in the mixture as well.
I can't wait for it to grow out.