Joined

Aug 12, 2004
Messages

554
Hello all,
In the past I've read many false information regarding Haplopelma schmidti and Haplopelma hainanum. Such as:1. schmidti having two color forms and can be found in the same egg sac and 2. that hainanum is different than schmidti DCF. I've even made a mistake of buying multiple of same spiders believing the dealer's misinformed ad in the past as well. Now i know that ALL those information is WRONG from talking to Volker von Wirth (i think everyone knows who he is) about this issue. Apparently Volker has told people about what im about to write below and he is tired of repeating it, so he told me I can go ahead and let everyone know and share the info, I hope i dont make an ass out of myself doing this as i feel awkward I'm not a taxonomist. Also im afraid of other taxonomists asking tough questions but come on, this is from Volker i think he has examined 100s of these two species, he knows. LOL
so here it goes
Information from Volker:
There are no color forms of Haplopelma schmidti in nature from what he knows of. Every supposed DarkColorForm schmidti that he examined turned out to be Haplopelma hainanum of Hainan Island of China.
Taxonomic differences;
schmidti and hainanum share similar structures except this little difference in spermatheca shape.
schmidti juvie
schmidti female from Phil Messenger's website and his photo
http://homepage.ntlworld.com/the.tarantula.store/spermgal-Haplopelma.htm
hainanum juvie
hainanum adult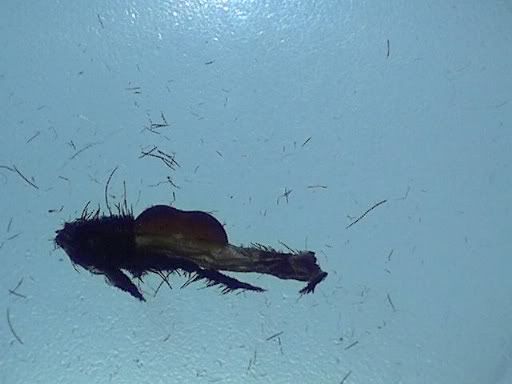 another different adult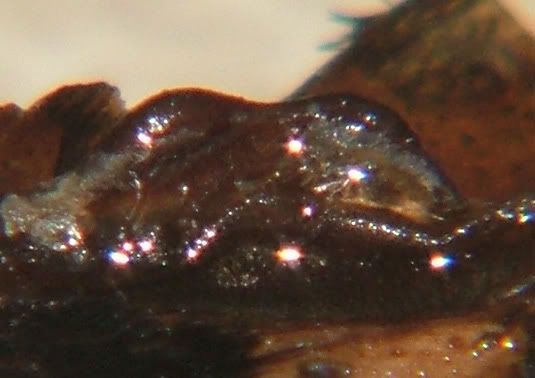 H. schmidti has a deeper dip in the middle and the whole spermatheca is a bit smaller. H. hainanum has a higher spermatheca with a less of dip. Volker is quoted for saying 'trapezoid' shape of spermatheca of hainanum. Even at juvie size (the photo was from 4'' LS juvies) you can distinguish.
so, spermatheca shape and darker coloration especially after a molt should tell you how to tell the difference between H. schmidti and H. hainanum.
in the males of H. schmidti and H. hainanum...again the only slight difference is that the male of hainanum lack the keels that H. schmidti have. Keels look like two shallow long bumps on the bolus. I have sent my WC H. hainanum male to Volker and he took some photos and that's what he has found, i cant use his pictures that he sent me i dont have copy right.
However since we are talking about color forms, people may ask that hainanum supposed to be jet black with a white mustache. I heard that too in the past but, just because the spider is not all black and has a brown abdomen make it a color form of schmidti.
think about it; if animal A and animal B are the same species but ONLY different in colors. How come the spermatheca shape is different? they are different species.
Also, I have 7 WC Haplopelma hainanum in my collection and some CB slings, so far i can only trust WC specimens who knows what might have occured with CB stock when everyone was misinformed for years. There are very slight differences between spiders that i keep. Keep in mind that is true for all species, buy 10 different WC H. lividum not all of them are EXACTLY the same in coloration and pattern. So, just because you saw a specimen labeled hainanum that looked different than your specimen, dont think you have a color form of schmidti. The easiest thing to do is to check the spermatheca OR send it off to a taxonomist.
i hope this helps everyone and hopefully we wont see any more DCF mislabelling.