Joined

Mar 15, 2010
Messages

45
In the middle of the summer I found like 4 or 5 of these in a group on the ceiling of my kitchen in my apartment. I tried to squash them....and that just made them mad. It takes at least 3 or 4 hardcore sprays of RAID and even then all they do is roll around for an hour before they die. They are not an easy kill. With the legs out they are about the size of a quater. I went out one evening last month and discovered they were ALL OVER the side of my building at night. There is a giant mag light hanging out there and it draws a lot of insects. I stood out there and counted 93 of them all in various sizes (but the same colorization) before I finally quit counting. (The counting didnt take that long lol) I'm assuming some egg sac must have been born in or around my building. But tonight I found a giant one, about the size of a half dollar with the legs out on my kitchen ceiling and it was an epic battle to kill it.
Now I know there are obviously spider lovers on this board, who don't just love T's but all spiders, but I'm sorry, to me a Tarantula counts almost as a really small animal to me that is part of the arachnid kingdom, and I invited those into my house and keep them in captivity, these things I dunno what they are and look mean as hell. So I don't mean to offend anyone with my slaying of these spiders. And whats worse, I'd hate to find out what might happen if one of them accidentally somehow got into one of my T's tanks and bit it.
I live in Pennsylvania and I think they might be cross orb-weavers? But can anyone confirm this? Are they mean and have bad bites? And what would be my best bet to be rid of these in my apartment? Any help would be appreciated!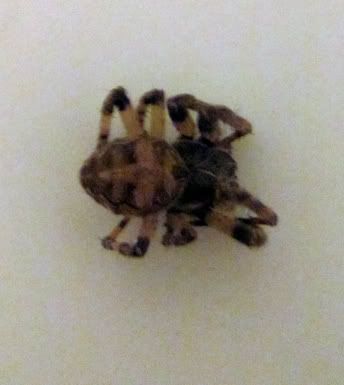 Despite being in the death curl, he wasn't dead when I took these photos, he was still rolling around and twitching almost 20 minutes after being hit with Raid.
Last edited: