Joined

Jul 8, 2007
Messages

994
I've noticed a lot of herpers on this board, but what about bird keepers? Our feathered friends are, after all, a link to the ancient split between cold blooded and warm blooded. So who else keeps birds, and what species? I saw a few pigeon keepers - fantastic! I want to hear more about your stock.
I have several birds, and it seems several more will be coming my way. Here is the current "crew:"
My beloved hen, Alejandro. She's a 2 year old adult mixed breed female, layer variety (I assure you this is not a rooster, no matter how much she looks like one). Our neighbors gave her to us as a chick as she had chronic sinus infections and they didn't know how to deal with it. She still has issues with sinus infections, but a modified diet and higher humidity environment has it (mostly) fixed. This chicken is my absolute baby; she grew up in my room until she was old enough to safely go outside without getting eaten. She follows me around like a feathery little dog, hops up and sits in a chair at the table when she wants food, and loves to perch on my arm like a big, clunky, flightless falcon. Here's a picture of us being silly:
Nuru is our rooster. I'm unsure of his age and background, but he was abandoned in the woods with his hens in Fahnstock State Park in NY, where my uncle works. They were left in the middle of January, so the hens were largely picked off by predators or froze to death. Nuru was the only survivor, and they only caught him because he was mostly starved and too weak to fight back. We agreed to take him as a buddy for Alejandro, but they actually get along very poorly. So, they're kept seperate, but can see and interact with each other through the fence. He's hyper aggressive and known for taking great flying leaps into the air, kicking and clawing, and latching on to you with his beak. As a result, we have to keep his spurs, nails, and beak very blunt, as he's taken more than a few chunks out of unsuspecting visitors.
Aspen the attack bird, my Green Cheeked Conure, who is a vicious junkyard dog trapped in the body of a tiny parrot. Nah, he's not that bad - he's just very protective of me and attacks anyone or anything who gets in our way. He was a very ill-concieved gift from a relative who didn't understand the whole "expensive 30 year commitment" aspect of owning a conure...
Pretty Bird (No, I did not name HIM) is a White Fronted Amazon who was abandoned at the vet office I worked at for biting a child. He was there for five years, in the kennel, in a very small cage with no enrichment. He was fed mostly sun flower seed and was overall very poorly cared for. The poor bird was utterly neurotic by the time I started working there, but with a lot of TLC and handling, I got him to warm up to me. The office gave him to me for Christmas since it was obvious that he was "mine" anyways. He's taken a great deal of work to be even a semi-normal parrot, and still has a lot of issues from his traumatic little life.
Velveeta is a budgie I adopted about 14 years ago along with a male who has since died. We bullied a pet store into handing them over as both had bad URIs and were not getting proper care. The male sadly developed a large, cancerous tumor and had to be PTS at only 6 years old, but 'veeta is still alive and kicking at 14 - and I'm glad for that, as she's a wonderful bird.
Sigma (molting in this pic, sorry for her shabby appearence!) is a budgie I adopted from an elderly woman with Parkinson's disease. She could no longer care for aged Sigma and her young companion, Theto. As it was, they were in a very small cage with only one perch, eating only spray millet.
They aren't at all tame, but have a large aviary all to themselves now.
Theto is the other keet from the woman with parkinsons. The poor little fellow allready had fatty liver disease when I got him, as you can see from his bulging chest. He is on a special diet to keep it from progressing, but will inevitably be short lived. Please forgive the poo on the perch in this shot; this was when they first came in, and had runny stool from the stress - covering everything in POOP no matter how much we cleaned!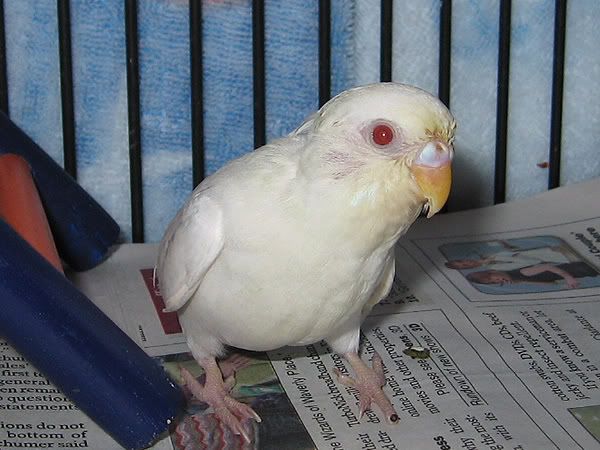 Noah the budgie was actually a stray. Our hen found the poor little dear dehydrated and desperately trying to get water... and responded by beating the snot out of him. I came outside to the sight of a little white parakeet being pecked and flung and thought for sure he was dead. He was close enough; this bird required subcutaneous fluids and force feedings twice daily every day for a week because he was to traumatized that he wouldn't do anything but lay on the bottom of the cage. What's more, he had a severe upper respritory infection and almost died, but thankfully strong anti-biotics, lots of heat, and plenty of fluids carried him through it. He's on the rebound now, but seems to be deaf - perhaps related to his albinism.
Ok, I showed you mine - now you show me yours!
Last edited: