This is the care sheet I sent out with each of my B.Lateralis orders (now sold out, thank you for your orders!). I thought it may help the users here
BLATTA LATERALIS CARE SHEET
You will notice I sent a healthy overcount of roaches; I want to see everybody succeed with this roach, and starting off with diverse genetics is a plus. That's the reason for all the egg cases with your shipment.
Once you get your roach colony going, you will be amazed at how easy it is to have a steady supply of roaches for your bug eating friends. Not only will you have to fight the urge to go out there and buy all the insectivores you want, but you'll also want to spread the word about roaches to all your insectivore keeping friends! Crickets are a thing of the past, my friends...
Okay, here's a comprehensive look at what worked for me with these roaches. I researched and experimented for months to come up with this set up. Example photos will come separately right after this mailing.
SHOPPING LIST:
Glue gun
Stick glue for the glue gun
A popsicle stick
Scissors
Fine mesh screen
Wire shelf, shorter in length than the bin (see pix, mine is about 3/4 bin size)
LOTS of unused egg crates; the big square kind are the nicest.
Small paper plates
Bag of natural peat or ground sphagnum moss (BE SURE THERE'S NO FERTILIZER OR OTHER CHEMICALS IN THIS)
Bag of sand (REMEMBER, YOU WANT ALL SAND, NO COLORS OR CHEMICALS)
Spray bottle
Electrical tape
Small zip ties
Heat rope (I use the 14' length, only 25 watt for my big bins)
Electrical tape
SMOOTH packing tape
THE BIN
I use a BIG Rubbermaid container for my roaches; the biggest one I could find (31 gallons). Put packing tape around the top of the bin like I have pictured. Just wipe the packing tape every other day or so. This guarantees that even when your bin sides are dirty, the packing tape area will still stay slick so they can't climb out. Packing tape stands up well to moisture.
Get your scissors, the glue gun/glue, the fine mesh screen, the popsicle stick & the sandpaper. Take the lid and cut it out like I have. (for best reproductive speed, cut out only half like I did; the bin will stay warmer.) Sand a little all around where you will attach the screen to the inside of the lid, then dust off the crumbs. Cut the screen to fit,
and glue it to the lid, lightly zipping the popsicle stick over the glue while it's still hot to mash it in the screen and ensure a good seal.
HEAT & STANDING ROOM
Take a look at pic #004. The white thing under the crates is an upside down wire shelf I bought at Wal Mart. (That pic is my B. Dubia set up) You want that shelf under your crates to protect them from getting wet and stinky from constant contact with the roach's moist substrate. Put as many egg crates as will loosely fit on there to eyeball how many crates you can put on there. You want the crates at least five inches from the top.
I have had great success with heat rope. It's cheap to run. You should be able to see in the pix that I've put little holes through the container to run the rope through, then once I've run enough rope through I seal off the hole with hot glue and fasten the rope with electrical tape.
You'll see that electrical tape is wrapped quite far down the length of the rope inside the bin. (See #003) This is because I put it all the way down to the mark that shows where the rope heats up; B. Lateralis tend to nibble the cool portion of the rope, so this protects it. Don't put the electrical tape past the mark on the rope!
Zip tie the heat rope to the underside of the shelf, where the egg crates will go. Put a line of heat rope across the dry food dish; this will help keep their food dry. *Keep in mind that you don't want the shelf to pinch the heat cable!* Also, don't allow heat rope to touch itself, as it can overheat and pose a fire hazard. I also think it's a bad idea also to zip tie the HOT portion of the rope too tightly to the wire so it has room to expand. The roaches will be able to choose how warm or how cool they want to be by moving up or down the crates.
SUBSTRATE
Take everything out of the bin, and scoop in 50% sand, 50% ground moss. You want the substrate to be about 3/4 inch deep. Mix it up well. Mist the area that will be under the crates with your spray bottle; you want the substrate moist but not wet. Don't mist the feeding area.
PUT YOUR SET UP TOGETHER:
Put the upside down shelf with the heat rope on it in the bin. Put as many egg crates as will fit on the shelf loosely. You'll probably notice that I have two upside down shelves in my B. Lateralis bin; because of the extreme numbers of roaches in there, I need as many crates as possible.
Firmly nestle two paper plates on the empty side of their enclosure, and pat down the substrate around the plates so they won't be tracking it all over their food. You are doing this because these are non climbers, and you need to make it so even the smallest neonate can eat. You won't have to do this again; B. Lateralis NEVER dig. You will be changing those plates every other day, at the minimum.
Make sure your packing tape area is clean.
Now, plug it in and put the lid on! You are ready for your shipment...
CARE
B. Lateralis like it hot and humid. You can keep their heat rope on all the time until their numbers get to where you want. Then, plug the heat rope into a timer; I have mine set to be on for an hour then off for a half hour all day, then starting at 6pm, on for a half hour, off for a half hour all night until 6am to mimic the temp drop they experience at night in the wild. The hotter it is, the faster they'll breed for you. Once their numbers are enough and you are trying to slow their reproduction through lower temps, keep in mind that you never want them below 78 degrees for longer than one day, as it's detrimental to your colony...this is why they can't infest.
Pick up their egg crates (I pick up half at a time) and mist their substrate EVERY DAY. The heat rope will be fine; its made to handle this. If things seem too wet in there, you can hold off on misting for a day. You don't want their egg cases to dry out, but you don't want it sopping wet in there either. If your roaches start to have trouble moulting, you need to make it moister in there ASAP.
They eat all standard roach fare. They need dry food at ALL times; You could simply use NONMEDICATED chicken mash, but remember that corn is difficult to digest for most herps; Leopard geckos are an exception to this. I just buy Cricket food.com's roach food; it's by far the best, but you need to refridgerate it. It's nice to have a balanced roach diet already on hand instead of doing it yourself. The most important thing to remember about the dry food is to KEEP IT DRY, or your insects will end up with toxic gut contents. This is the reason for the section of heat rope over the dry food plate. Just scoop the dry food directly onto the heat rope. I provide fresh produce every day; oranges, apples, yams, carrots, zucchini & etc - they'll eat pretty much everything you want passed on to your insectivoire. If you are keeping these in your house like I am, stay away from stuff that makes you stink when you eat it, like cucumbers, lettuce, beans and etc. unless you are gutloading a small number of roaches, because gassy foods also are gassy foods to your roaches, haha...Don't supplement their food with calcium; its REALLY bad for them. Dust them instead just prior to feeding out. The females seem to appreciate occassional (once a week or so) jolts of protein. You can use fish food or dog food for this purpose. Don't use cat food, as it seems to make them stink. Try not to get the dog food with red dye in it; buy a brand with less tallow or fat, and little or preferably NO TAURINE. You want more natural ingredients. You don't need to grind it up, the females make short work of whole kibbles!
YOU MUST WASH ALL PRODUCE WELL WITH WARM WATER AND DISH SOAP! ASSUME EVERY UNWASHED PIECE OF PRODUCE HAS INSECTICIDES ON IT!
NEVER let their produce rot or their food/produce get mouldy. This may kill them, and some moulds (like the aspergillus found in their dry food if its allowed to get damp) are very toxic; the roaches may be fine, but the toxins can build up in your herp. Keep the food fresh and clean. This is why you need the screen in the lid; keep the screened side over the food area to help that area stay drier. If you start having trouble with mites despite your best efforts to keep the food area dry and the food changed, just put gobs of gray isopods in there. They eat mites, clean up moulted skins, and eat all the dead roaches your colony doesn't get to first.
Clean the packing tape area by wiping it off every other day or so. These are non climbers, but if the bin sides are dirty or mite infested, the little ones can grip it and climb. Some ppl use vaseline, others use that bug stop...I've tried both, and neither one is nearly as good as plain old packing tape for non climbers, because it stays slick with just wiping it. The down side of bug stop is you need to reapply it every so often, and thats a REAL pain! I don't know if the packing tape works with climbing species, but it works like a charm with any non climber.
I can't think of anything else to include in this care sheet right now. blaberus.com has great, comprehensive care sheets too if you want to read up further, and the owner is a joy to deal with. Also, 'Richie the Roachman' has an amazing selection
http://www.angelfire.com/oh2/Roaches/Roachman.html
Thanks again for your order!
Y
Pic of upside down shelf (B. Dubia enclosure)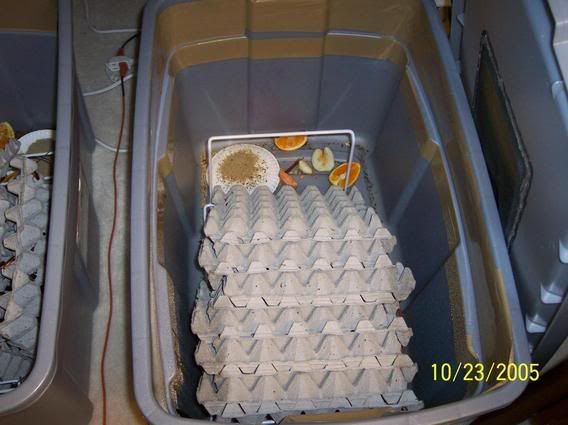 Pic of empty set up with heat rope
Pic of B.Lateralis lid
Pic of B. Lateralis bin (raised THOUSANDS in this 31 gallon bin; heat rope across the food is missing because this was taken before the idea of putting the rope across the food to keep it dry)