Just thought I would share afew photos of my Auckland Tree Wētā / pūtangatanga (Hemideina thoracica). I've had these two females for a couple of months, neither are fully mature but still pretty impressive in my opinion. The following photographs are not all from the same day.
The smaller of the two.
The big girl. This is how Wētā spend the day, tightly squeezed into a dark crevice or hole.
Here comes trouble, Wētā can be very territorial when there is no male to keep them in check. In the wild they are often found living communally. A male, several females and juveniles will share a natural cavity in a tree branch, I hope to eventually keep them like this in captivity. For now the two girls spend the day at opposite ends of the enclosure. God knows what happens at night :?
(I should note: The hollow log, hiding spot in the above photo is usually coverd with black plastic to keep it dark.)
Example of a male, poorly pinned I know. Check out the mandibles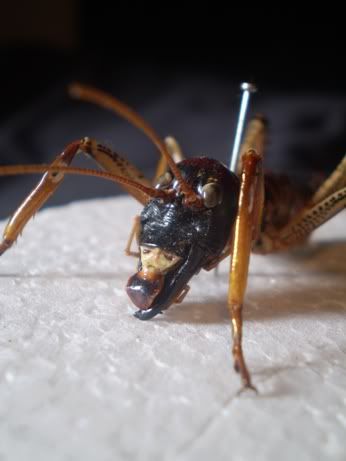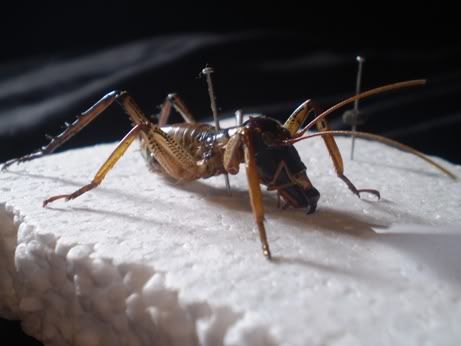 A short handling video. She wasn't too happy about being woken up, they are usually abit calmer then this:
[YOUTUBE]JO7-sPzpnG8[/YOUTUBE]
Not cute perhaps, but definitely fascinating!
I'm in the process of rearranging the enclosure, I will post pictures when I am finished.
Questions and comments welcome
Last edited: